Back to the Future is Back – 30 Years Later! #BTTF2015
This post brought to you by Universal. The content and opinions expressed below are that of StuckAtHomeMom.com.




I was 13 when "Back to the Future" came out in 1985. I lost track of how many times I saw it in the theater – but it was a lot. It was 1985, so there wasn't a whole lot to do other than going to the movies (or bowling, or roller skating), but watching "Back to the Future" became like a hobby for my friends and me. And quoting the movie, ad nauseum, to everyone. "Roads? Where we're going we don't need…roads." Or "Are you telling me that you built a time machine…out of a DeLorean?" Or the ever present (and something I still say) – "Hello, McFly." My kids have watched the trilogy with me several times, and we really enjoy it. And now that it is the 30th Anniversary of "Back to the Future," there is even more to love.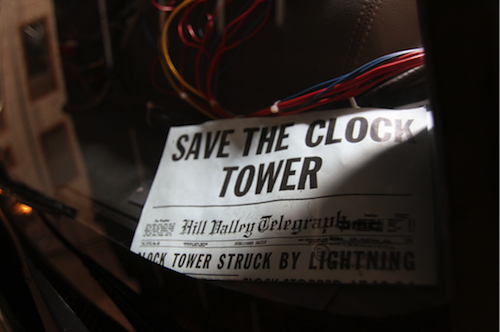 In honor of the anniversary, Universal is releasing a special Anniversary Blu-Ray set that includes all three of the films, extensive bonus content, and will be available with Digital HD and collectible packaging for the Blu-Ray version. I am very excited about the bonus content. It includes original shorts, deleted scenes, a 6-part Tales from the Future documentary, Looking Back to the Future – a 9-part retrospective documentary on the trilogy, and almost a dozen other features. There is also a second set that will be released this fall. Back to the Future: The Complete Adventures, will include all three movies, all of the bonus materials, AND Back to the Future: The Complete Animated Series – all in a very cool light-up Flux Capacitor package. These sets will be released on October 21, 2015. Also on October 21st, there will be theatrical showings of the movie around the country. Stephanie is planning on seeing it in Washington DC when she is there.
The reason that they will be released on October 21 of this year is also one of the reasons that I LOVE these movies. October 21, 2015 is the date that Marty, his girlfriend Jennifer, and Doc Brown arrive in the future (from 1985) in "Back to the Future II" – and that is why it is such a big date in the BTTF world. A date that we have all been anticipating for decades! It has been so anticipated that there have been several hoaxes over the past five years on social media where instigators have convinced people that the magical date has arrived – but it hasn't come yet.
So why do I (and millions of others) love "Back to the Future" so much? Here is a list of my favorite things:
1. It is intriguing to think about meeting your parents as teenagers. After all, they weren't always 40 and tired! I liked imagining going back to high school and meeting my mom and dad and seeing what they were like.
2. Thinking about altering the past (in the innocent way we thought about it in 1985, not in the scary, earth-ending ways that other movies have considered it) is a lot of fun. Seeing Marty's great outcome makes you feel so good at the end of the movie.
3. Everyone got what they "deserved." George and Lorraine got their happy ending – all made possible by the little bit of self-confidence that George had after overcoming Biff's bullying. And Biff was as slimy as ever, but without the great (most likely undeserved) success that he had in the original 1985 reality.
4. Goldie Wilson. I'm pretty sure he would have become mayor even without Marty's encouragement in 1955, but I love that he was one of the pieces that tied 1955 and 1985 together outside of Marty's family.
5. All of the parallels. You will seriously find a new one every time you watch the movie. Twin Pines Mall becomes Lone Pines Mall after Marty runs over Old Man Peabody's pine tree. Uncle Joey in the playpen he won't leave becomes Uncle Joey who keeps missing parole.
6. Huey Lewis is brilliant. His band, The News, plays the song "The Power of Love," which is featured in all three movies. Marty has a poster for "Sports," the Huey Lewis and the News album, hanging in his bedroom. Huey even makes a cameo as the teacher who tells Marty and his band that they are "just too darn loud" for the Battle of the Bands. They are playing "The Power of Love."
7. The interaction between Doc Brown and Marty is fabulous too. You don't see much of it in 1985, other than Marty's reaction when Doc is shot. But their relationship is 1955 is one of respect and affection.
8. The life preserver and Coast Guard references are hilarious. I also get a good laugh about "Calvin Klein" every single time I watch.
9. Biff, his goons, and the manure truck. Good stuff. I also love George punching Biff, and Biff waxing George's car. I like to see him get what he deserves.
10. Marty's relationship with his (adult) parents. In the original 1985, he is frustrated by his dad's inability to stand up to Biff, but he loves and respects his parents. In the new 1985, he is happy for his parents and their successes. In 1955 – well, he is just lucky he escaped Lorraine!
11. Darth Vader, the extra-terrestrial from Planet Vulcan.
12. Doc's clocks, the clock tower, and all of the subtle references to time. Like when Doc says to Marty, "Do you have no concept of time?" when Marty is late leaving the dance.
I am very excited to check out the new bonus materials and to be able to watch the three movies in Blu-Ray format with my girls. I hope you plan on checking out the "Back to the Future" 30th Anniversary Blu-Ray Set on October 21, 2015. After all, you will need to watch the trilogy just to see what they got right when they created their 2015 future back in 1985 and 1989. I'm so glad that one of my favorite movies is available for new generations.
Elements used to create Featured image Artwork provided by
Created by Jill
.