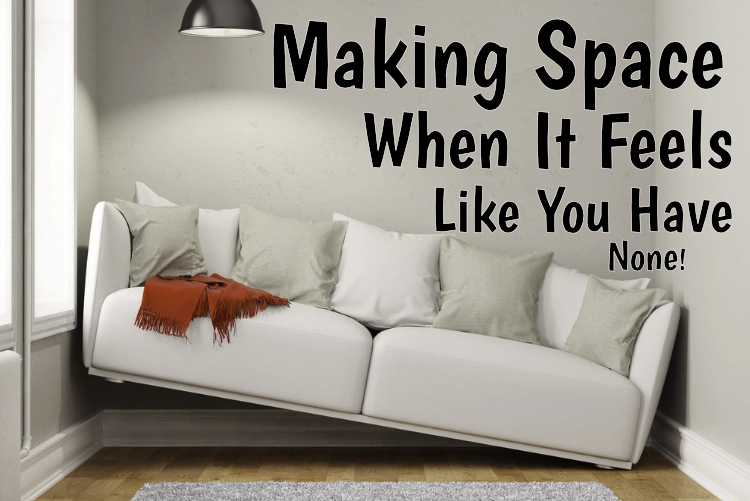 Making Space When It Feels Like You Have None

Normally, when you've outgrown a home, you'd make like a hermit crab, find the next property to suit your needs and make the move. However, with the economy we live in and the way housing trends are going, this seemingly simple part of life has turned into an expensive, eager-to-avoid nightmare.
Whether you can't afford the additional costs of moving, been affected by the economy slump and don't have the credit available to support you or life is simply too busy to up sticks and move, we've got a guide to making the most of the space you've got even be it balcony, bedroom or bathroom, when you feel like your property is at its limit;
The Illusion of Space
First, decide what you need to achieve by making space in your home – do you feel cluttered and wish to make it look larger? Do you need to be able to fit more stuff in? Have you got a child on the way and are worried about additional bedroom space? While the last two requests are probably the most common, they require some workarounds that we will get to later in this article. For now, let's look at how to make a property feel larger without knocking down walls and adding an expensive extension.
Adding Mirrors
Mirrors are an excellent 'cheat' for making any room feel larger than it is and with some key positioning and plenty of light, you'll soon have that box room feeling like a secret retreat. Hang mirrors opposite windows, especially where you have a natural view. The reflected scene of trees, grass and nature can make a room feel much larger than it is, and a mirror will help to increase the amount of natural light too.
Use Light Colours
Colours can influence pretty much everything in our lives from our emotions and purchasing habits to how we feel about certain brands and marketing. The right colours can also influence how large a room feels – using white or brighter, light reflecting colours are perfect for making a room feel big. Whereas darker, light absorbing colours tend to make a room feel smaller and closed in.
Swap Heavy Curtains for Lining or Voiles
Curtains are great for keeping the light out but at the same time can quickly make a room feel stuffy and cluttered. Let the light in with sheer lining or light-coloured voiles – you still get the benefit of privacy, and it'll help make the room feel bigger by letting in plenty of light.
Getting Practical with Space
You've already utilised all the tricks to get the rooms feel bigger and got rid of everything that 'no longer brings you joy' but now you need to make some actual usable space. While it might require some clever thinking, here are some sure-fire ways, inspired by the tiny house movement, to win you back some prime space in your home;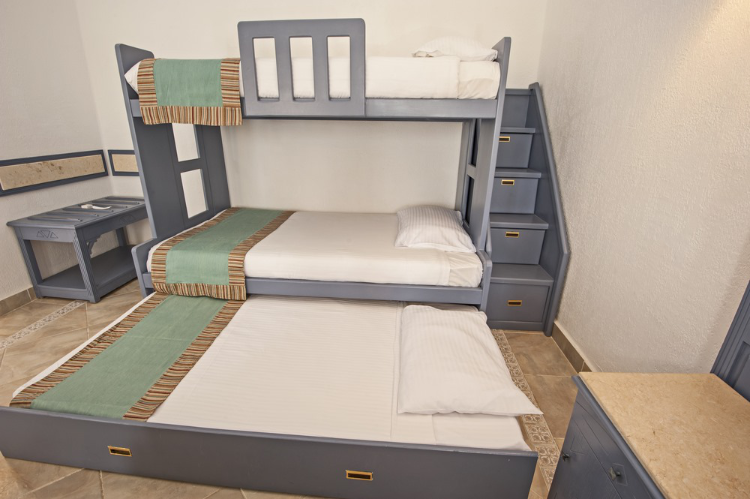 Invest in Space Saving Furniture
Have you seen the sofa that can be turned into bunk beds or the walk-in ottoman bed? These clever space-saving pieces of furniture aren't they only ones on the market. Plenty of clever designers and engineers who have lived in small spaces have come up with multi-purpose space saving furniture so there is sure to be an option that fits your space-saving needs.
Turn Rooms into Dual Use Spaces
Space comes with compromise and one way of making extra space is to make an existing room multi-purpose. For example, if you have a bedroom and a home office, consider combining the two. You can always section the room with a room divider or curtain to ensure you still get that 'switch off' feeling when you go to bed but at least you are making use of space that otherwise isn't utilised around the clock.
Making Use of a Flat Roof
An option that requires a bit of investment, with proper structure in place, flat roofs can be used for several solutions. Providing roof garden space where there isn't any, allowing for a small extension to add another bedroom or an ensuite bathroom or can be used to add additional external storage.
Getting Clever with Storage
Proper storage prevents a room feeling like it's cluttered however when you think of room storage, you might be thinking of large wardrobes, bulky shelving units and floor-hogging cabinets. Instead, get clever with your storage, place shelfs along the perimeter of the room – close to the ceiling, use a corner clothing rack beneath some shelves rather than a wardrobe and make better use of your stairs! If you live in a property with stairs, have a look at how you can best utilise the currently 'wasted' space – can you afford to upgrade the steps to include drawers, is there space under the stairs to use efficiently and is there enough room to attach pegs to your bannisters and use these to hang shoes and other accessories.
Whether you want the feeling of more space or simply need to be more practical with the square footage you have available to you, there is always a clever solution to find. Need some further inspiration? Take a look at some small studio solutions or the furniture used in tiny homes!
Elements used to create Featured image Artwork provided by
Created by Jill
.