I'm giving away a $25 Chili's Gift Card…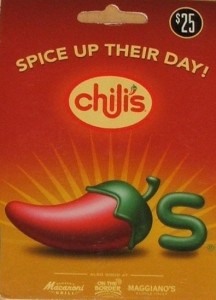 I'm giving away a $25 Chili's Gift Card – Again!
…. and I'm not even going to make you read a long boring review!
Why? You ask.
Because, I'm trying to build my membership, my views, my PR.
You don't want to read a long boring review – do you?
You already LOVE Chili's. Everyone Loves Chili's. You know what they serve and YOU WANT IT!
That's why you're here – right?
You don't need me to tell you how awesome they are, you're going to skip the review anyway and you're going to enter no matter what I write because – YOU LOVE CHILI's!
Here's how you enter:
Win It: $25 Chili's Gift Card
Required Entry: You must Subscribe 2 My Blog (see top of next column) and post 1 comment leaving with an email address where you can be reached. Email address are not published if you put the email address in the space provided.
There is NO need to put your email address in the comment, just put it in the area provided.
Please read the rules before entering. U.S only must be 18yrs old or older to enter.
Additional Entries available after required entry has been fulfilled.
One Entry for Each of the following:
Like StuckAtHomeMom on Facebook (…and feel free to leave a link to your Mommy Blog on my Fan Page)
Follow @stuckathomemom on Twitter
Follow my blog Publicly through Goggle Friend Connect (found on the side bar)
10 Extra Entries
Blog about this contest, using a text link to this post, on your blog for 10 extra entries.
Daily Unlimited Entries:
Share this giveaway on Facebook by clicking the Facebook button below. Limited to 1x an Hour so you don't make your friends crazy by clicking any more than that. Make sure you make it public so I can verify.
TWEET this Giveaway on TWITTER, Limited to 1x an Hour. You may tweet this if you like:
I entered to win a $25 Chili's Gift Card @StuckAtHomeMom You should too! http://www.stuckathomemom.com Ends 7/10/11 #Giveaway
5 extra entries.
Post my button on your blog. Remember to leave a link to your blog in your comment.
Please leave a separate comment for each entry. The number of comments are entered and picked randomly, so you want to add a separate comment for each entry.
Disclaimer: NO monetary compensation was received for this promotion. I did not receive a free product for promotional purposes. This product was purchase by Stuck At Home Mom. Stuck At Home Mom is sponsoring this contest.
RULES: Giveaway open to U.S Residents Only, 18 yrs or older. Only 1 person per household may enter. Rules must be followed and required entry must be answered. All entries of winner pulled will be validated for winning. Giveaway ends July 10, 2011 at 11:59 Est. Winner will be selected using Random.org and all entries will be verified. Then I will email the winner and give 72 hours to respond. In the event of no response a new winner will be chosen. The Stuck At Home Mom holds no warranty or guarantee. Blogger has the right to refuse duplicate winners from other blogs. Blogger has the right to end giveaway without notice for any reason.
Elements used to create Featured image Artwork provided by
Created by Jill
.