Discard your Reading Glasses, Stop Squinting, and Look Younger #LoseYourReaders
This post brought to you by Alcon. The content and opinions expressed below are that of StuckAtHomeMom.com.


Hi all, Stephanie here. When we had the opportunity to talk about Alcon's new Multifocal Contact Lenses, eDee remembered our recent conversation where I complained about getting reading glasses, and thought this would be perfect for me to discuss. I am 43, and I just started wearing reading glasses in the last few weeks. I don't mind them a whole lot, other than the fact that they are an additional pair of glasses (along with my distance glasses and prescription distance sunglasses) that I need to keep track of. Frankly, I say they don't bother me, but I have yet to wear them out of the house. I have continued squinting at menus and programs. I just feel like they make me look older than I am, and with gray hair and wrinkles coming slowly, I don't need any more help in that department. So I was very excited to hear about Alcon Multifocal Contact Lenses – I have already made and appointment with my eye doctor to check them out. I had worn contacts in the past, but that was about fifteen years ago, and I didn't have very good luck with them. The problem was that I needed to be able to have my eyes adjust quickly when looking up from my computer, and my contacts didn't allow me to do that. It was frustrating, and gave up on them after a while. But I hope that Alcon Multifocal Contact Lenses will be able to address to my problem.
Around 1/3 of Americans suffer from a conditional called presbyopia, which usually begins in your early to mid-40s. With presbyopia, your eyes begin to have trouble focusing on objects or small print that are close up. You know, when your arms are no longer long enough for you to read the newspaper? This strains your eyes and makes you squint. And squinting leads to another aging sign: wrinkles. I never realized how hard my eyes were working to make me look older when I am trying to look younger!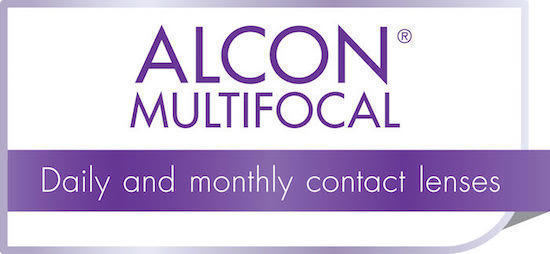 I belong, as do many of you, to "Generation X" – we are between 38 and 54, and we are no longer teenagers or even young adults. We are beginning to experience different aspects of aging, and we are hyper-aware of the changes that we are experiencing. Alcon worked with Jacksonville University and Wakefield Research to better understand the perception of aging by the "Generation X" population. They discovered that we are not going willingly into old age – we are dying our hair, wearing younger looking clothing, getting our teeth whitened, and getting plastic surgery. And what we aren't doing is ditching the reading glasses. According to studies, 62% of adults are unwilling to wear reading glasses as an accessory. 49% said that they would avoid wearing reading glasses if they knew it made them look older, while 25% believed that reading glasses make someone look 10 years older.
So what do you do if you want to be able to read small print at restaurants and work, but don't want to age yourself by a decade? You try Alcon Multifocal Contact Lenses. They work with your eyes' natural pupillary function to allow you to see close up and at a distance. And they offer three different options depending on your contact lens wearing style: AIR OPTIX® AQUA Multifocal contact lenses, which can be worn daily for up to 30 days, or extended wear (24 hours) for up to six nights. Then DAILIES® AquaComfort Plus® Multifocal contact lenses are disposable and intended to be worn and discarded after one day. Take advantage of this simple way to avoid aging – discard the reading glasses and avoid the squinting – just by switching to Alcon Multifocal Contact Lenses. I can't wait to try them myself, and stop looking around for my glasses.
To learn more and receive a free trial, please visit LoseYourReaders.com
*High oxygen transmissible lenses. Dk/t=138 @ -3.00D.  †Eye   †Eye exam may be required. Professional fees may apply. At participating offices.
Important Information for AIR OPTIX® AQUA Multifocal (lotrafilcon B) contact lenses: For daily wear or extended wear up to 6 nights for near/far-sightedness and/or presbyopia. Risk of serious eye problems (i.e., corneal ulcer) is greater for extended wear. In rare cases,loss of vision may result. Side effects like discomfort, mild burning or stinging may occur.
Ask your eye care professional for complete wear, care, and safety information.
Elements used to create Featured image Artwork provided by
Created by Jill
.