One of my favorite memories of any holiday from my childhood was the Peanuts special that went along with it. Seriously. There was an Arbor Day special, and even a Super Bowl episode. And of course my favorite: "It's the Great Pumpkin, Charlie Brown." There were almost fifty Peanuts television specials over the years, and I loved watching them. They felt like old friends – Charlie Brown, his sister Sally, and all of their friends: Linus, Lucy, Schroeder, Peppermint Patty, Marcie, and all of the others. I think I appreciated the Peanuts specials (and movies) so much more back then because we all had to wait for them to come on. Before VHS tapes and then DVDs, we were at the mercy of broadcast schedules, so when we got to watch our favorites, it was a real treat.
I was so excited to hear about The Peanuts Movie, which comes to theaters November 6, 2015. The computer animated movie features two storylines. Snoopy will battle with his arch-nemesis, The Red Baron, while closer to home Charlie Brown falls for his new neighbor, the little red-haired girl. I have watched the trailer over and over, and I laugh every time. All of my favorite characters are back, and they are just as fun as ever.
In conjunction with the movie release, Albertsons Safeway stores have teamed up with the Peanuts for some fun promotions, including a free (with purchase, while supplies last) Peanuts trick-or-treat bag when customers purchase three participating items. There are lots of popular brands that you get to choose from, and the bags are adorable! My local Albertsons Safeway store is Shaw's – I can't wait to get in there on October 14th to get my bag!
In honor of The Peanuts Movie's upcoming release, I created a couple of new snack bag treat ideas – check them out and let me know what you think!
These fun snack package ideas are perfect for school functions or Halloween parties.
Charlie Brown Popcorn (and Peanuts) Bag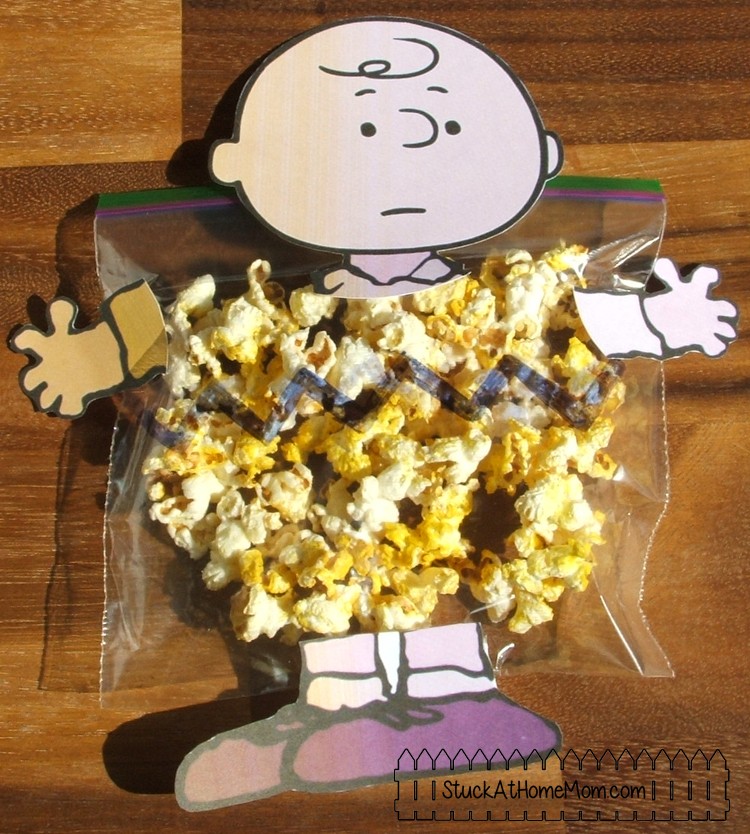 You will need:
Pop Secret Popcorn Homestyle
A spritz bottle
Yellow food coloring
Card stock
Ziploc baggies
Double sided tape
Black marker
(Of course you need a computer, internet access, printer with ink, and scissors, but if you're reading this I assume you have at least half of those things.)
How can you create your own Charlie Brown Popcorn (and Peanuts) Bag? Just follow a few easy steps.
Find an image of Charlie Brown. For the first project I simply used a Google search to find an image of Charlie Brown. Print out the image and cut out only the head, hands and feet.
Use double-sided tape and attach the cutouts to a Ziploc sandwich bag.
Draw a zig-zag on the bag like the design on Charlie Brown's shirt.
Print, cut and tape 4 sandwich bags, because each Pop Secret Popcorn Homestyle pouch makes around 4 Ziploc sandwich bag sized servings.
Using the directions provided on the Pop Secret Popcorn Homestyle packaging, microwave the popcorn.
When the popcorn is finished popping, pour it into a large clear bowl and remove any unpopped kernels.
Mix water and several drops of yellow food coloring in a new, clean, small spritz-bottle.
Spritz the popcorn lightly for an even color. Squirt a few spritzes, mix the popcorn, and then spritz again, being careful not to soak the popcorn with the spray.
Yellow is the color of Charlie Brown's shirt. Typically the butter will make the popcorn yellow, but to ensure a good yellow color, use the water/food coloring mixture.
Divide the Pop Secret Popcorn Homestyle into the 4 Charlie Brown sandwich bags.
Peanuts Treat Bags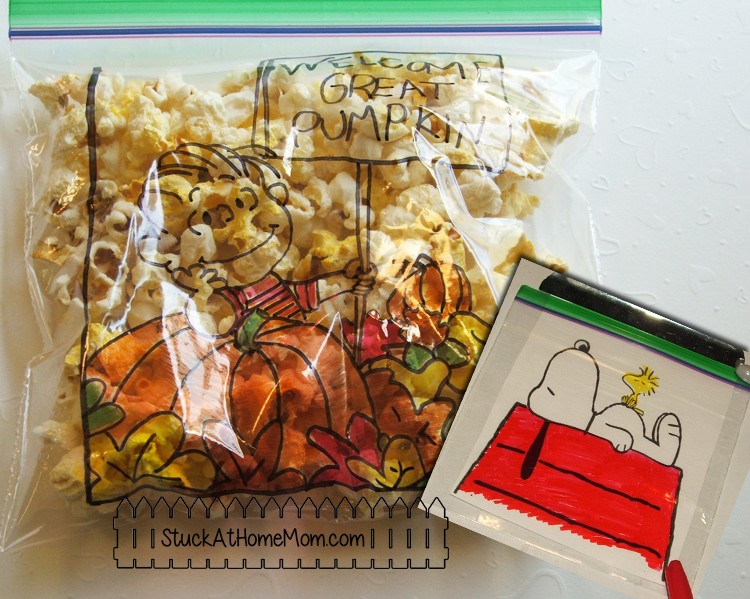 You will need:
Ziploc baggies
Assorted permanent markers
Clipboard
Tape
Computer, printer, ink, internet access
First, Google your favorite Peanuts Characters.
The images you want need to be somewhat simple. Print out the images in 5×7 format so they will fit the sandwich bag.
Using a clipboard and tape secure the image and the bag to the clipboard.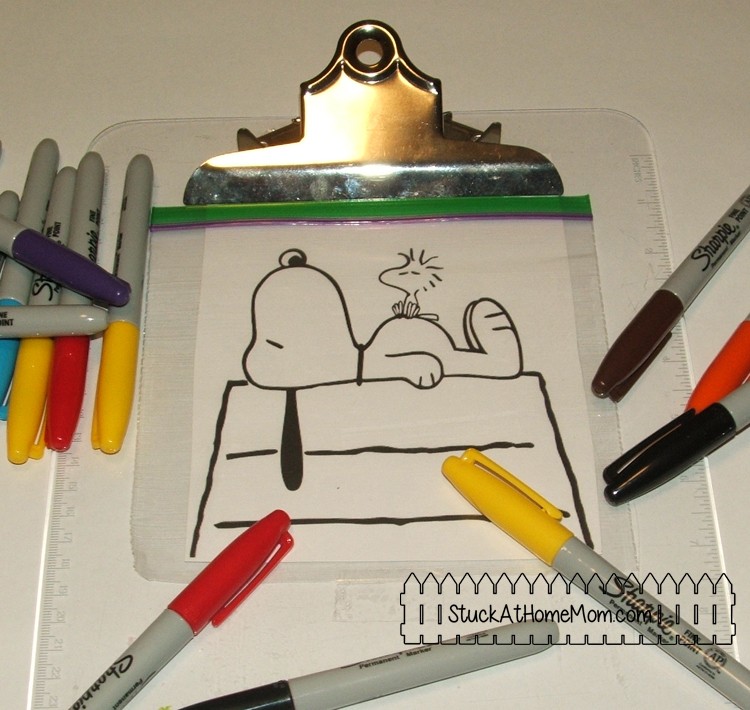 Color the image first. This will prevent the marker colors from mixing and smudging.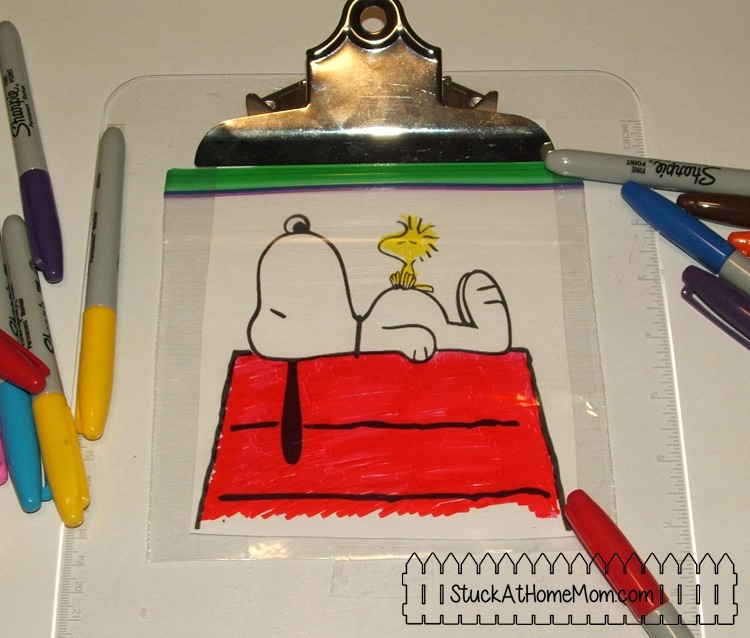 Once the image is colored in, trace the image in black.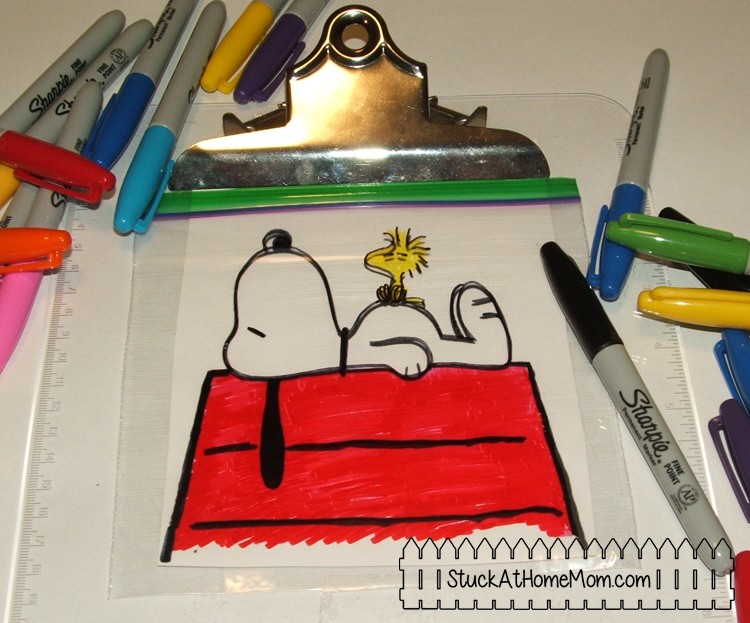 Carefully remove the tape from the bottom of the sandwich bag so it does not rip.
Fill with popcorn, candy or both and enjoy!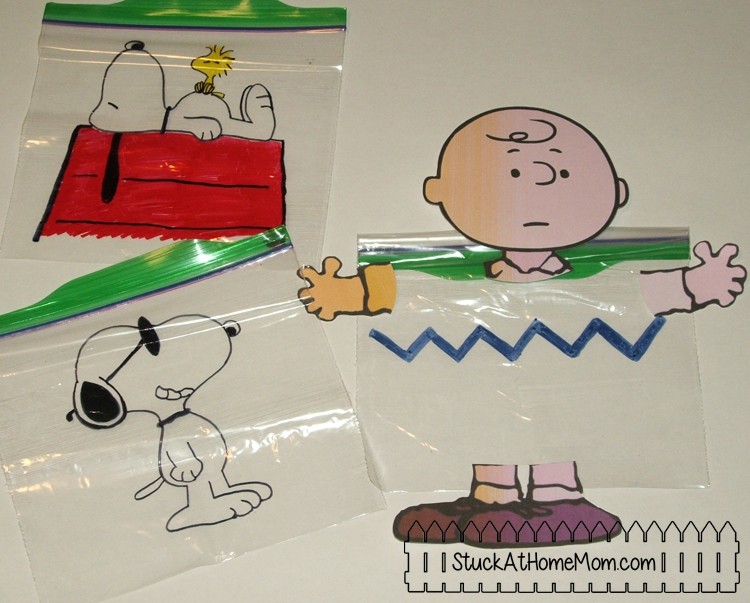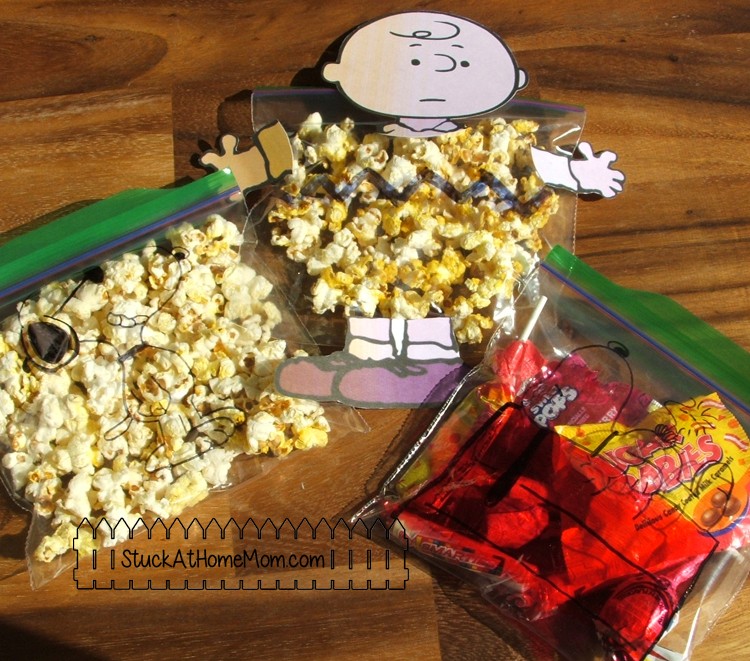 This is a sponsored conversation written by me on behalf of Albertsons Safeway. The opinions and text are all mine.
Elements used to create Featured image Artwork provided by
Created by Jill
.