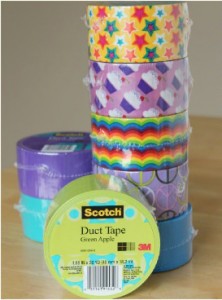 Duct Tape!
Sound silly? No joke.
We put a little duct tape on everything we leave outside from the kids toys to bikes.
No one is going to steel something that is broken and easily identified by a bit of duct tape!
Plus, with all the fun colors and patterns, Kids love it!
[This is a Mini Post by eDee]
Mini Posts     Vinegar     Cleaning     Duct Tape     Pets     Makeup
Elements used to create Featured image Artwork provided by
Created by Jill
.