Jewelry Cleaner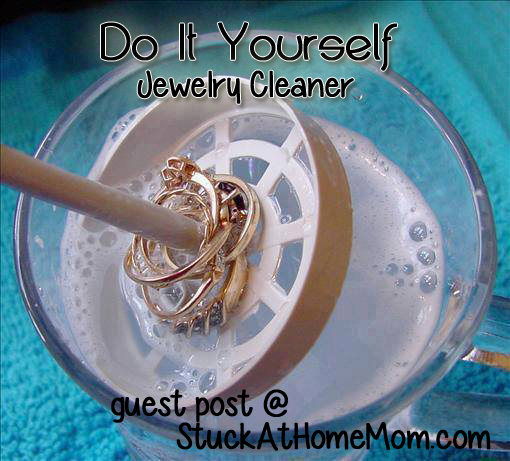 This is another odd one that I picked up from FaceBook.
Not sure where it comes from originally, not sure I care because I'm not sure it's worth trying.
This one is a "TRY AT YOUR OWN RISK" post.
Why? Because it seems a bit off. But for those of you who are Do It Yourselfers and would rather trying to clean your jewelry before going to the jewelry store, here is what I found online.
Here are my questions:
#1 Won't the salt just scratch the surface?
And #2 What is activating the baking soda? Doesn't baking soda just kind of clump in water?
I don't think the dish detergent is going to do much to the baking soda. If anything I think that the baking soda would just get into the small spaces and become impossible to get out.
However! If you would like to try it this is what I got off FaceBook. Have at it.
1 tablespoon salt
1 tablespoon baking soda
1 tablespoon dish detergent
1 cup water
1 piece aluminum foil
Directions:
1. Heat water in the microwave for 1 or 2 minutes.
2. Cut a piece of aluminum foil that roughly covers the bottom of a small bowl (like a cereal bowl).
3. Pour hot water into bowl. Place salt, soda, and dish washing liquid into bowl. Place jewelry on top of foil and let it sit for 5 to 10 minutes. Rinse jewelry in cool water and dry jewelry completely with soft cloth. Discard solution after use and make a new batch next time.
4. According to wire-sculpture.com: "this works well for gold-filled, brass, German (nickel) silver, and sterling silver. I have even cleaned jewelry with freshwater pearls, shell cameos and mother of pearl with no problem."
Well there you have it – wire-scuplture.com, whoever they are, thinks it's the bee's knees.
But I still say "TRY AT YOUR OWN RISK!"
For people with white gold or diamond jewelry, I've also came across a less
intense method for cleaning them here.
Elements used to create Featured image Artwork provided by
Created by Jill
.