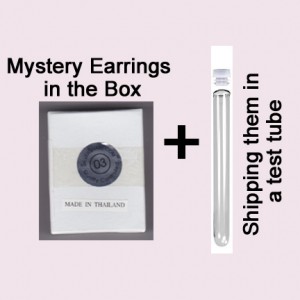 If that title isn't an attention getter!
Here's the back story …..
About 3 years ago I purchased a pair of earrings for around $25 from Silver Shake.com and when I got them I put them away from Christmas.
Then I not only forgot about the earrings until after Christmas, but I can't remember who they were for or what they look like!!
I know there are earrings in the box because that's what it says so on the receipt.
The box is still sealed up tight, but I'm going to ship the earrings as part of my Shipping Stuff in Test Tubes posts …..
[I'll open the box the day the giveaway ends, put the earrings into the test tube and mail them out.]
Tuesday I'm mail out the dollars in the test tubs – Next week I want to make out these earrings.
So to enter the "Mystery Earrings in a Test Tube Giveaway!" just leave a comment below!
For an extra entry, Friend me on FaceBook!
And for one more entry daily Tweet! [make sure I can see it: @stuckathomemom]
And for a 4th entry post this giveaway daily on FaceBook! [tag me eDee Bruns]
Look at that 4 ways to enter and you can do 3 of them daily if you'd like.
One person will win the pair of earrings in the SilverShaker.com box.
I'm sure I need a few rules – right?
Ok, you must be at least 13 years old to enter. If you are under 18 years old you need your parents or guardians permission.
Open to U.S. residents only – because I'm sending it in a test tube!
This giveaway is not associated with SilverShake.com in any way, shape or form. They're just really, really cool and I purchase all my jewelry through their site – but that's it! Blogger is responsible for the prize.
Giveaway starts …. Now! and ends January 6, 2013 11:59pm Eastern.
One comment entry per day
One tweet entry per day
One FaceBook entry per day
And you can only friend me once on Face Book – so ……
*sigh* and because I have to: This Blogger reserves the right to end, change or cancel giveaway at any time without notice.
So don't be a dink!
Elements used to create Featured image Artwork provided by
Created by Jill
.