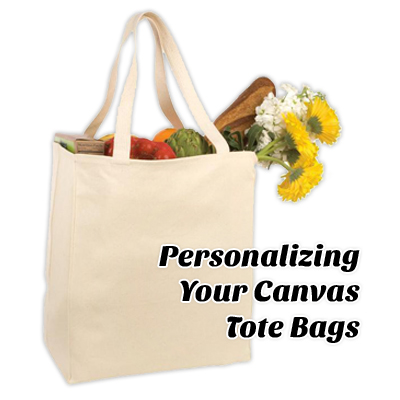 A canvas tote bag can be used for many different things. They can be used for grocery shopping, going to the beach, school, library, or just about anything. There are different sizes for many different occasions. Canvas tote bags come in a variety of colors, for example off white, blue, green, and pink. Tote bags can be decorated in many different ways.
A canvas tote bag can be decorated in a manner that makes them perfect for a reusable shopping tote. It can be decorated with stamps that look like food. It can be decorated with stencils and fabric paint. Iron on transfers is good to use on tote bags. Decorated with food is a great way to tell at a glance which bag is your shopping tote bag.
There are different kinds of stamps. There are rubber stamps, eraser stamps, potato stamps, and wooden blocks with sticky foam pieces or designs stuck on it. Rubber stamps can be found at any craft store. There is a wide selection to choose from when it comes to rubber stamps.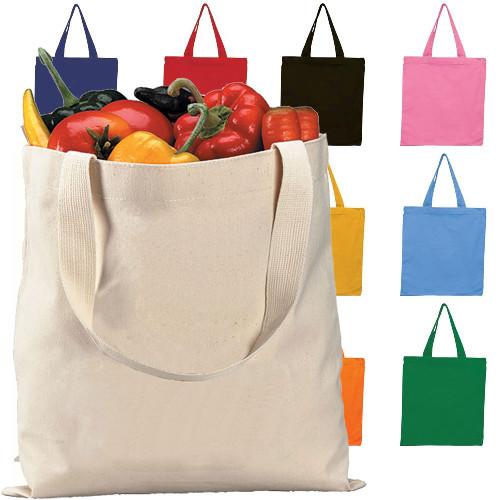 In the way of materials that can be utilized to decorate canvas bags, there is a lot of different medias to choose from, such as transfer paper, tie dye, and dip dyed. You can utilize fabric markers, and fabric pens, or you can hand paint the bags. You can sew fabrics, pompoms, and other materials on the bag. The bags can be hand embroidered, appliquéd, mod podge, or glued on jewels.
Once you choose your preferred method of decorating, you are ready to start decorating. You want to put a piece of cardboard in the bag if you plan on doing any painting or mod ponging on your bag. This will prevent the paint or the mod podge from leaking into the material on the other side. You need to get your pattern on the tote bag before you start painting. After the pattern is on the bag then you can start painting. Make sure that you use the brush for one color only, that way you do not end up with more than one paint on the brush, as this will ruin your pattern. The finished project needs to dry for 24 hours to make sure that it is dry before using it.
For most patterns, you may want to consider using an iron on transfer or transfer paper to put the pattern on the tote bag. This will make it easier for you to paint, use fabric markers, fabric pens or embroidery. The main thing to remember is to be creative and to have fun. They can be decorated to be used for any occasion that you may have need for one. Decorate and enjoy the final project.
Elements used to create Featured image Artwork provided by
Created by Jill
.