This year will be our 9th Halloween in this house, we moved in October 31st and from the start we have only handed out Nut Free Treats.
Almost every year I make a big Mr. Peanut and post a sign No Peanut Candy. This year Treasure is Gluten/Dairy Free – so I'm bumping this up a notch. We'll still do our regular Nut Free candies, but we will also have a Gluten/Dairy Free option.
It wasn't that hard and almost accidental, I've been thinking about G/D treats, but it was still something rattling around in the back of my head.
Monday I found out that Smarties are G/D free and today while I was at Wal-mart Fruit Rollups appeared in front of me. I've always skipped over the rollups since they contain nothing healthy, but this isn't supposed to be healthy – this is a treat!
I also grabbed some Vampire teeth, Pencils and Erasers to toss into the pot of treats.
Gluten, Dairy, and Nut Free Halloween Treats were easy to find!
Know of any other good pre-packaged G/D/N free Halloween treats?
Please let me know!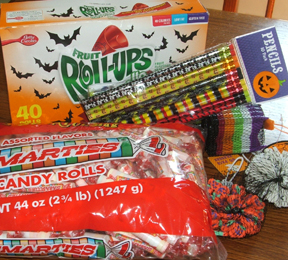 Elements used to create Featured image Artwork provided by
Created by Jill
.