Whoopie Pies Around the Nation.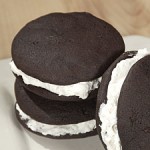 Growing up I watched my mother make meals for people in our church who had lost a loved one or had fallen ill. She could whip these things up in an hour and would drag us along to deliver them. The meals were always warmly received and I imagined myself one day doing the same.
HOWEVER – mother forgot a few things….. like teaching us how to cook! Not to mention, where the HELL did she find the time?
I run my kids everywhere. My oldest is in every group, club, and after school project know to child and the other is brilliant and on the spectrum, take your eyes off her for a second and she'll be in the basement creating nuclear fusion.
In this Digital Social Networking World, your closest friends may be several hundred miles away – can't exactly drop everything, whip up a casserole and drag the kids through several states.
So I have resigned myself to ordering and having treats shipped to ailing friends.
It's classy – right! I read on FaceBook that so and so's wife is in the hospital, I log into Whoopie Pies R Us – because Whoopie Pies are the Maine State Food! – and have some shipped right over. Across country! Right to their door! From what I hear – they're really good. I should be happy right?
But it just feels very impersonal.
Light Bulb!
I can make the Maine State Food! Whoopie Pies. Shipping has to be relatively easy – these Pies have enough preservatives to last an eternity. I can figure out how to ship these things around the country AND in the process I can teach my daughters the same lessons my mother taught me about giving and taking care of our friends. ('taking care of' is a relative term considering each pie has a proximately 90 million calories.)
Side Note: This is also a great way to get some of my friends involved with a cross blog! Hey, why not!
Here's the deal.
I'm going to make Whoopie Pies – at some point between running the kids everywhere, dry walling, cleaning and sleeping.
Then Freeze them … I'd say for a longer life span, but come on, Whoopie Pies are one large preservative.
During the weekend, my big girl and I will figure out the best way to ship them off and come Monday off to the post office we'll go with frozen boxes of Whoopie Pies!
What could go wrong!?!
First Box heading to Simply Punkin in Alabama: USPS Tracking: 9405 5036 9930 0183 7953 27
Second Box heading to The Night Owl Mama in Illinois: USPS Tracking: 9405 5036 9930 0183 8712 50
Lets see if they get there.
Elements used to create Featured image Artwork provided by
Created by Jill
.