Meta Descriptions: Since the pandemic happened, more people craved comfort in their homes to do remote work and learning. With this, homeowners are forced to create modern indoor and outdoor home ideas to accommodate daily living that may even last until the years to come.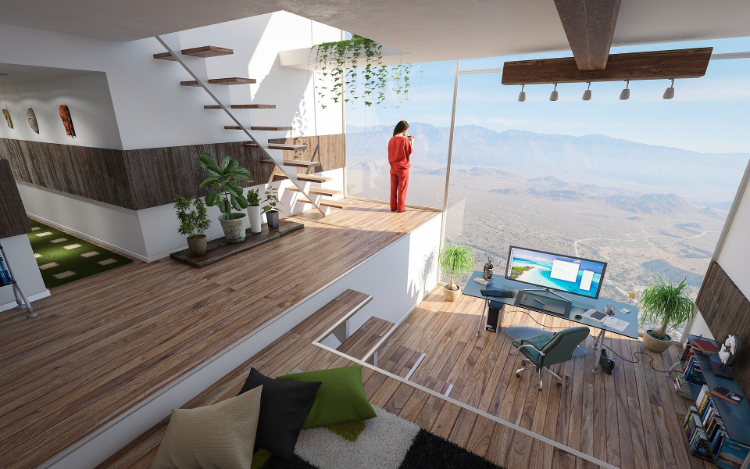 Image by Arek Socha from Pixabay
When the pandemic hit the world, most industries were terribly affected and home space is no exception. As people were forced to stay at home, they craved for more comfort in their homes while handling the expenses of their new lifestyle. 
From reimagining home spaces, creating a functional office, redesigning the living room for Zoom meetings or remote learnings, and even hiring impeccable home staging services in cities like Mississauga and Toronto. Let's face it, your home requires a fresh start that would even last until the next years to come. 
With this in mind, I couldn't help but check the latest modern interior and exterior top designs for your home this 2021. From the growing elegant elements to sustainable materials, this article will give you a curated look that will definitely give your home a new sensational style. 
Here are 16 modern interior and exterior ideas for your lovely home this 2021: 
Modern Interior Design Ideas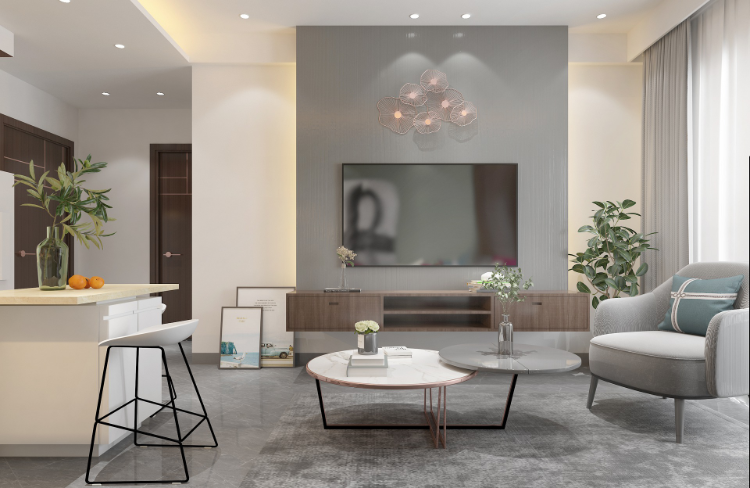 Image by 德钦 赵 from Pixabay
The pandemic has led people to make interesting shifts in their indoor home designs. While some indoor home ideas may fade when the pandemic ends, most homeowners believe that many will stick around at least for the upcoming years. 
Interior home ideas are leaning towards colours to add excitement and depth. This year, bright yellow and ultimate gray are the best colour combination for your home. Both earthly colours radiate positivity and warmth. 
Additionally, in choosing your colour palette, choose ones that are natural and earthy. Incorporating dramatic colours can also provide mood inside your home. 
Because plenty of things happen in our lives at home lately (such as daily meetings, online learning, or work activities), your spaces may need to serve more than one purpose. You can have foldable desks and room dividers as office furniture to easily convert spaces. You can also create your guest room in your home office. 
Kitchen as Your Focal Point
During the past year, people have had fewer opportunities to dine in restaurants, instead, they embraced baking and cooking. This made the kitchen both a gathering area for households and a workspace for online students and remote workers. 
So, this 2021, you want a space for entertainment, a workspace, and an area for baking and cooking rolled into one: the kitchen. 
Minimalist Style: is inspired by traditional Japanese home design. Minimalist style drives modern concepts that are devoid of distractions such as clutters. It maximizes visual impacts and offers aesthetics that keep your interiors light but dynamic. 
Scandinavian Style: embodies efficiency, functionality, and simplicity.  It strikes a balance between personal ideas and a minimalistic style.  This style makes your house cozier while swimming in the colours of grays, whites, and black. 
Urban Style: leans towards designs that bring gritty vibes with distinctive looks. It emphasizes industrial sensibilities that are often combined with open spaces, which float in light palettes and artistic indulgence. 
Indoor plants will continue to design your homes to ascent clarity, nature's calmness, and fresh indoor air. Whether you place them on a tabletop or random shelf, having them inside your home wins you on a mental, functional, and aesthetic level. 
Since almost everyone is staying at home, homeowners are making their homes more comfortable and at the same time functional. For example, people are using decorative smart lighting over the standard incandescent bulbs to cater to the new lifestyle — whether with cooking preparations, Zoom calls, or simply relaxing.
As we spend more time at home for learning or for work, it's essential to have durable fabrics that wear well and can be washed numerous times. 
This year, you can adorn interiors with tropical wall murals that are full of dreamy and lively patterns to add mood, depth, excitement, and curiosity. 
Modern Outdoor Design Ideas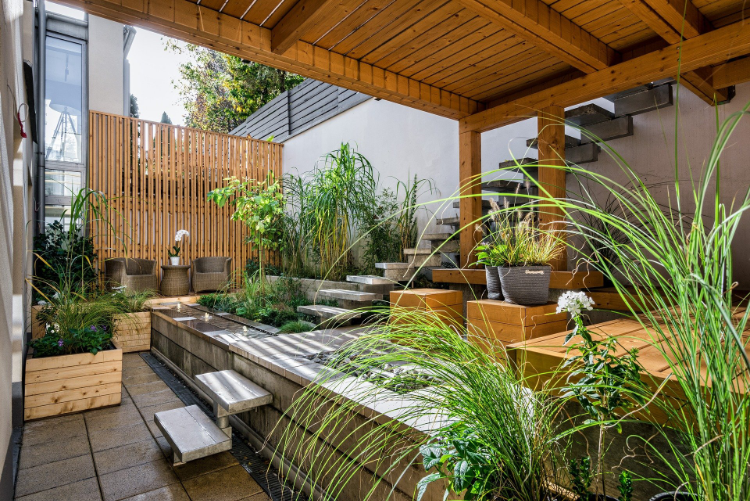 Image by Marzenna Gaines from Pixabay
This 2021, make your balcony, porch, and lawn a regular part of your daily life by bringing your indoor conveniences outdoors with the help of multipurpose add-ons, new structures, and even smart technology.  
Start your outdoor ideas by considering making a bold statement to your neighbourhood using dark colours. Dark colours are eye-catching and dramatic. Dark hues like navy blue or black can curb your outdoor appeal. 
How about at night? Well, landscape lighting can make your house more stunning at night allowing you to feature the best outdoor designs you have. Outdoor LED lights will help you achieve your desired landscaping lighting design whether with linear lights or coloured lights. 
When incorporating outdoor lights, make sure your sprinkler system is placed away from any electrical accidents to ensure safety. You can find many design ideas online with the nice integration of smart landscape lighting and sprinkler systems in Toronto homes.
Reintroduce The Front Yard 
Your front lawns are the new extension to your indoor home where you can utilize the space to get more out of your property! Reintroducing your front lawn is not only about maximizing the space available for your everyday life. 
It is also a great space for you to meet other people, welcome communities, and provide other safer options to remain socially distant while connecting with other people. 
Since the year 2020 has restricted people to go to restaurants, plenty of people are making their own at home. Most homeowners have turned their lawns into outdoor kitchens where they have installed cooking elements like pizza ovens, grills, and even put up an outdoor bar to supplement the outdoor kitchen.
Gardening has also been one of the popular activities done during the pandemic. Some wanted to try it as a new hobby, and some just wanted to have an edible garden to supplement their pantries with homegrown vegetables, herbs, and fruits. 
Most homeowners have removed their dead trees in the lawns to create more space for their edible garden. Consider tree removal services in Aurora to make way for a bigger space conveniently. The city of Aurora has many such companies, you can check out with your own city as well.
Outdoor furniture has been created to accommodate us in outdoor social gatherings and even in our daily lives. So, expect that your furniture can perform multiple functions that can still serve your purpose not only during stay-at-home situations but for the years to come. 
For instance, its versatility can convert modular tables into seats that are great for social distancing. 
Say goodbye to your plain white fence, and say hello to light yellow, pink, or any vibrant hue. Attractive painted detail is the trending outdoor home idea that everyone is loving. This includes painting your fences or pool decks with bright colours or customized murals. 
Rattan has been widely trending since a couple of years ago. It's most likely seen to stay popular post-pandemic. The good reason for this is that it is a high-quality material, is eco-friendly, and is a piece of timeless aesthetic furniture.  
If you're planning to remodel, renovate, or even sell your home, you can incorporate these amazing modern indoor and outdoor home ideas that can definitely accommodate your new lifestyle with the right comfort. 
Elements used to create Featured image Artwork provided by
Created by Jill
.