Wedding seasons are pretty busy, especially in India. They are a big affair and months of planning is required to have the wedding of your dreams. But as a bride or groom to be, worrying about the slightest of things should be the last thing on your mind.
Yes, there are things that you want to take care of but there is a better way to plan your wedding without feeling overwhelmed all the time or forgetting something. There are several apps in the market that can help take off that load from you and help you manage things in a much better way. 
From photography to food, decoration, trousseau shopping, sweets to every other thing that needs to be taken care of, these apps can really do all and help you. Here are the 5 apps that you should use in the wedding season this time of the year.
Lio
Lio is one brilliant app that stands for Life In Order. The application is perfect to bring your chaotic self in order and organize things in a much better and hassle freeway. On Lio.io you can list all your work and then track what you have taken care of. To avoid going over your budget, you can keep a track of it on Lio.
Make a list of all your guests and to whom you have sent your cards. You can also share this data with your family so that all of you are on the same page. If you spot something nice while browsing through the net, you can just upload a picture on Lio and keep it in your memory.
WedMeGood
WedMeGood is the gospel for every bride-to-be. This easy to use app has a user-friendly interface. The application is a must for all brides and grooms as it will make their task and the search for finding the right people and vendors much easier. With WedMeGood, you can find the best vendors located all over the country.
Choose the ones you want based on their ratings, reviews, package, the information offered and the services they offer. If you choose one from the app, you also get an additional discount on not just the vendors but also makeup artists, designers and more.
No matter where you are having a wedding, you can easily get a vendor or anything you want sitting anywhere in the world. From destination weddings to budget weddings, they have something for everyone. There are some great tips right from the trousseau, what footwear to wear on the main day, bridesmaid gifts and everything else.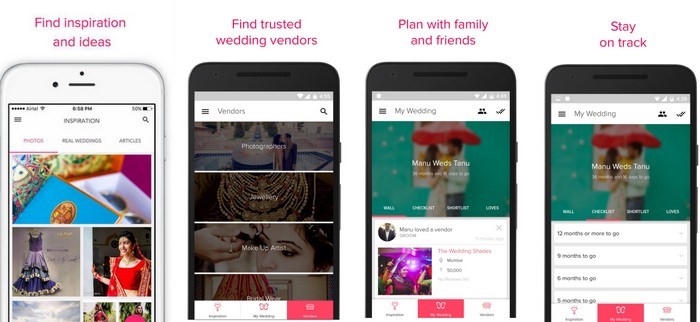 RSVP manager
RSVP is an application that helps the users manage guest logistics. It is simple to use, very easy and can be downloaded in the app store or Playstore. There are several functionalities of this application like you can add guest details, tracking the arrivals, departure dates, managing their meals, staying assignments, RSVP and generate customized reports. 
The app also allows guests to view their wedding invitation, wedding website, guest book etc. You can also add gift registry, function details and other things on this application.
You can also create a community with a social wall, send messages to your guests and also make announcements. All this makes it easy for the guests to stay updated on the wedding and the functions. Share pictures, videos and everything with them and make your wedding a happy event for all.
Appy Couple
Appy Couple is a paid application but another great one for all those who have a wedding at home. This app is basically your wedding website turned into an app that is very comprehensive and detailed. It contains all the information on the bridal party, events and all the relevant details about the wedding like timings, dress code etc.
There is also an RSVP manager and guest book that you can send to all your guests to make things easier for you on the main day of the wedding. You can also share the parking details with them.
That's not all, share wedding photos and videos with your loved ones through this one app. Integrate gift registry through Appy Couples which makes it easy for the guests to pick the most meaningful wedding gift for the happy couple.
Wedding Sutra
Wedding Sutra is another popular application that is basically a trusted source for all Indian weddings. It is a one-stop destination to get inspiration and ideas to showcase the best of the best Indian wedding trends.
From Bollywood weddings to destination weddings, economical weddings and even eco-friendly ones, you can get the dirt on all this and much more.
Elements used to create Featured image Artwork provided by
Created by Jill
.