You can count only in your hands the enhancements that can rival the addition of a gas fireplace. This is the best add-on that offers convenience, character, and comfort inside the home, and this is something many don't realize they need.
When you're going to install this, know that you'll be presented with various options. If you're unsure where to start, here are some things to help you out. A fireplace inside a home can be installed in three ways, including:
Freestanding Logs
You can convert logs into fuel inside a home's fireplace. Typically, you need to install a gas line that will go down directly to the logs, resulting in an open flame that will burn as some wood does. This is where a screen will only protect you from the burst and burns of the fire.
Gas Inserts
You can renovate an existing fireplace that burns wood in a single box. This will vent out into an existing chimney, and some of the best gas fireplaces are made from these. A box will protect you fully against the flames, and there are glass panes and screens at the front to prevent the nearby furniture from catching fire. Aside from the insert, you can also consider their built-in fans to add realistic effects and heat inside the living room.
Built-in Gas Fireplace
This is a modern version of a decorative gas insert that looks like a freestanding log fireplace. This is an area inside the room that you can build without an existing chimney. They are vented into the exterior of the walls but know that there are current state laws for them. The emissions from a non-vented hearth can affect the air quality that the family breathes inside the home, so it's essential to install vents where the smoke can get out.
Benefits of a Fireplace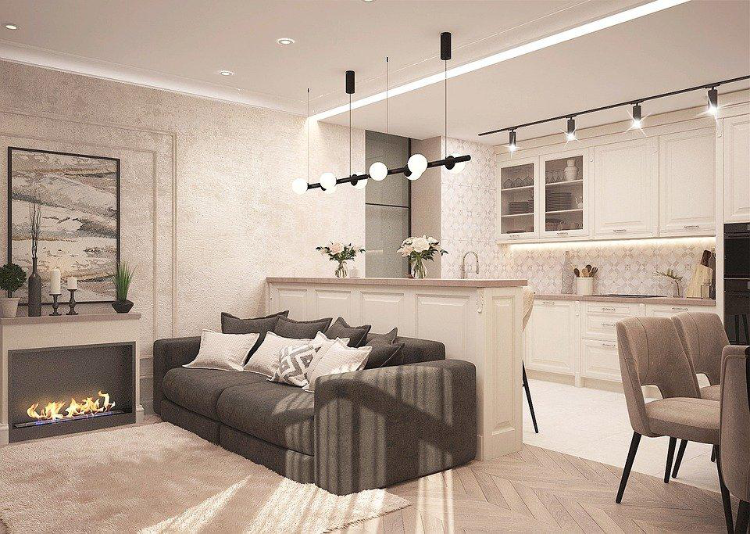 One of the advantages of having these inside your home is that you don't have to clean up the ashes, and there's no need to purchase some logs when winter comes. This is a modern product with efficiencies that are considered a necessity in many houses. Whether you see one that's heater-rated, decorative, or furnace-rated, all of them will give you heat during the cold months. They can be comfortable inside their houses and save money at the same time.
These fireplaces don't need any tending, and you can do annual check-ups for maintenance. They can run through propane or natural gas, and there's no need to build a chimney on top. You can install them in any room inside your house without additional costs.
Aside from the convenience and comfort, many homeowners appreciate the controls that they have with these fireplaces. The models have a wide range of BTUs to choose from. With just a remote control or a flick of a switch, you can increase or decrease the heat inside your house in no time.
Overall Costs to Consider
Product costs often depend on the size of the unit and whether there's a need for professional installation. You might be looking to get one for your home, and if so, you need to be aware of the costs of the fuel and labor before getting started. Read more information about other types of fuel when you click this site.
They are quite different from the installation of logs because the inserts are already considered as wood-burning fireplaces. A built-in gas model can also cost more. Building and designing vents in faux hearths will act as a decoration inside your home, but this can cost more when considering the surrounding finishing and framework construction. You may be planning to build DIY, but there are certain risks and challenges with creating the mantle and the custom facades.
Annual maintenance is highly-recommended for gas fireplaces. You need to clean out the bugs or debris, check the system, and do more. When you keep it in tiptop condition, you'll be able to create a more pleasant and safer hearth that your family can use for years to come.
 Selecting the Best Gas Products
Choosing the right gas products starts with measuring the BTU and the cubic feet of the room. Select products with a more than adequate amount of heat or consult with a professional to validate your choices. The experts can share objective feedback that's helpful to the consumers. 
The performance should be one of your top considerations, but you also need one that will suit the overall design of your home. Find something that can fit the traditional, contemporary, modern, and rustic designs. Many products like bronze, black, or matte charcoal are available, and with freestanding models, many other hues can be available in showrooms. Read more about chic paints in this link here: https://www.housebeautiful.com/home-remodeling/diy-projects/g30654004/painted-fireplaces/. 
Some have stone styling and interior brick designs. Much like the other façade of the fireplace, you can get ones with logs, coals, stones, or even glass beads. Driftwood can add aesthetic appeal, and you can find those with childproofing features as well.
Elements used to create Featured image Artwork provided by
Created by Jill
.