You might be surprised that the tall, squeaky giraffes that babies love gnaw on when they're teething actually have a name: Sophie. Sophie is not just any teething toy, though – as far as teething objects go, Sophie the Giraffe is actually a global superstar. Unfortunately, with this comes a bit of a hefty price tag, so why are parents so frequently choosing Sophie over much more affordable teething toys? There's quite a lot to it, so in this article we take a little look at what makes Sophie the Giraffe such a good friend to so many babies around the world. 
The beginnings of Sophie the Giraffe
For mums and dads looking for a teething toy for their brand new baby, there's a good chance that a few of their friends (who are also parents, of course), have tried to convince them to buy Sophie the giraffe. Although a heart recommendation might incentivise parents to some degree from the outset, when they finally go out to pick up Sophie, seeing the cost of the toy might automatically set alarm bells off ringing. What has caused Sophie to attract a premium, in this case? Well, it all started when French toy manufacturer Vulli produced the first Sophie the Giraffe on May 25, 1961. Ever since then Sophie – commonly called la girafe in France – has been a childhood staple in the country of its inception. In fact, sales of this humble giraffe often match or surpass annual birth rates, demonstrating how the first thing people do when a good friend gives birth is rush out and get their hands on a Sophie! Although Sophie was born in France, many might be surprised to learn that the worldwide success started in the United States.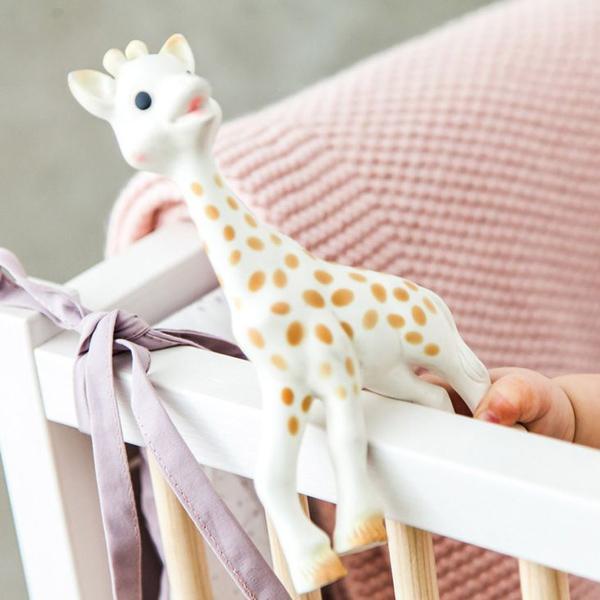 How Sophie became a sensation
It was in California in 2000 that French expat Hélène Dumoulin-Montgomery was unable to find a Sophie after she gave birth to her daughter. Very much wanting one, Dumoulin-Montgomery got in touch with the manufacturer, Vulli, and asked for permission to import the toy directly into the Unite States. Not every success story explodes from the outset, and Sophie was a very good example of this – after all, no one wanted Sophie at first! Fortunately, this all changed after Dumoulin-Montgomery met with the owner of Elegant Child, a gift boutique store located in cashed-up Beverly Hills. Gradually, Sophie the Giraffe made her way into gift hampers for celebrities who were expecting or had just given birth, and it is at this stage that the popularity of the French teether exploded. Now, Sophie is available in 75 different countries around the world, and you might even be surprised to learn that 500,000 Sophie the Giraffes are sold in the US every year, which makes for a lot of happy babies!
Get your baby a Sophie today
Sophie the Giraffe has been a must for any baby shower for a very long time, and it's not hard to see why – even though it might carry a premium compared to other teething toys, it can't be denied that Sophie has a really rich, wonderful history, and the impressive cuteness that it also represents also definitely helps. So, next time you have a friend who is about to have a baby shower – make sure to not forget about Sophie!
Elements used to create Featured image Artwork provided by
Created by Jill
.