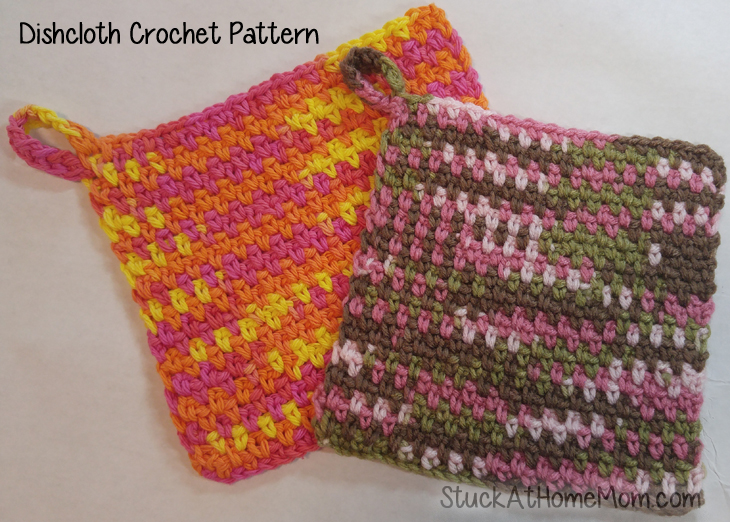 There are 3 patterns that you are taught when you learn to crochet. The first is the Granny Square, which we have covered, the second is the dish rag crochet pattern, and the third is a potholder which we will get to next.
Today we are going to tackle the dish rag crochet pattern or as some call it a dishcloth. After the granny square this is going to seem simple, but don't be fooled, this one has a few little tricks that you must watch out for or your square dish rag will be a triangle.
Don't know all the stitches? Not problem, you can Learn to Crochet in a Day!
Hook: G
Yarn: Premier Home
(Peaches & Cream or Sugar'N Cream will work just as well)
ch = chain
sc = single crochet
slst = slip stitch
sp = space
** = repeat to end
Chain 34
Row 1: 1 sc in second ch from hook *ch 1, skip next ch, 1 sc in next ch*
Row 2: ch 1, turn, 1 sc in next ch 1 sp *ch 1, skip next sc, 1 sc in next ch sp*
Row 3: ch 1, turn, 1 sc in first sc *ch 1, skip next sc, 1 sc in next ch sp*
Repeat Rows 2 and 3 until desired length
To finish off. Ch 10, slst into last sc to make the loop, fasten off and weave the end.
Alternative Loop
I like to use a Foundation Stitch loop at the end of my dishcloth. The 10 chain is fine, but it can break easy.
To see how I do the Foundation Stitch, please see the end of the video.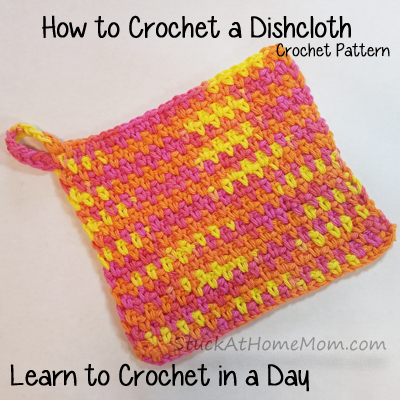 Elements used to create Featured image Artwork provided by
Created by Jill
.