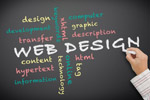 #1 Functionality.
No one expects you to be a designer/programmer, but before you start creating that "Free Website" – take a look at your competition, their design and setup is probably working for them.
#2 Provide a way to Contact You!
Today I went searching for bloggers to write reviews for a product, so many had wonderful Media Pages and NO contact information.
#3 No YELLOW
Bright Neon Mellow Yellow background will drive traffic away. Nough said!
#4 It's a Blog not a Book
The attention span of the average internet user is 1.4 seconds.
You may be the ultimate authority, but if your readers wanted to read a book they'd be on Amazon.
Give a synopsis of how your article is going to help me and the Back Arrow will be clicked. Small chunks of information without filler information is the way to go. Break it up!
#5 Politics and Religion apply to blogs.
Unless your blog is about politics or religion, don't write about it.
If your selling something, don't support a candidate.
Some religious icons are pretty safe Mother Teresa, John Paul II, Gandhi, the Dalai Lama – even the most relentless Atheist will agree those were/are good people, but refer to them with a negative under tone and you can get yourself in trouble.
Just stay clear.
#6 Your Media/PR Kit page should NOT contain the following:
a. "When I do a review my opinions are my own and I'll tell my readers exactly how I feel about your product, so don't send me trash."
b. "If you send me a product I do a review and a giveaway you get nothing more."
c. "My Blog. My Rules"
d. other rude comments
#7 If you do #6, you won't need to worry about #2.
Elements used to create Featured image Artwork provided by
Created by Jill
.