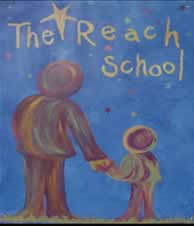 My family has been so blessed by the teachers and staff of The Reach School. I have written about them before, but this time I want to be more specific.
When you visit Reach for the first time you are greeted by Lucy. Lucy is a lovely person with a slightly goofy sense of humor which is completely unexpected and charming. From the moment you walk in the door you will feel like you are talking to an old friend. Lucy is the best first impression and the most accurate representation of the school.
Lucy, Thank you for making me feel at home.
Colleen runs the school. You may only see her once, because from the moment she walks through the door to the moment she leaves, she is doing everything in her power to get a new service or a type of adaptive equipment for your child. And when she is not in her office, she is on the floor playing with your child, learning about your child and your child's specific needs. Once your child has been at Reach for a month, call her up and ask her some obscure question about your child's care plan, she will answer it without missing a beat.
Colleen, Thank you for finding an effective way to teach my daughter.
Ann is the most supportive professional and laid back teacher. If you walk into the classroom in tears, she's your shoulder. If you're chipper, she's a comedian. If your child is in crisis, she's the solution. If you have a meeting, she's your backup. Ann has even offered to come to my home to find ways to help my family cope with my daughters needs. My daughter was quite appropriately placed in a 1 to 1 classroom. If you're not familiar with that term, it means 1 teacher to 1 student. Children progressing nicely aren't placed in 1 to 1 classrooms, those services are reserved for the tough cases. Ann is the lead teacher in a classroom of tough cases and every single day when you walk into that classroom you know she is your rock and your child's lifeline.
Ann, Thank you for being my rock.
Caitlin is beautiful inside and out. The bond she has with my daughter is remarkable and genuine. Caitlin has a sixth sense with children; she is able to deter a tantrum before it begins and pull a child out of a melt down in mere moments. My daughter is drawn to her. The bond Caitlin has with my daughter has been a source of relief for me in many ways. I can walk up to her and say "she isn't sick, but she's not herself either" and Caitlin gets it. And when you are dealing with autistic children with limited verbal skills, someone who "gets it" is rare and priceless.
Caitlin, Thank you for bonding with my child.
John is always moving. His enthusiasm is boundless – perfect for managing active children and their exhausted parents. He has a patience and positive attitude when dealing with students, giving each child the individual attention they need. Seeing John every morning makes my day better and I know I am leaving my daughter is capable hands.
John, Thank you for making every day bright.
Mark was my daughter's first "Favorite Teacher" and he is the person who gave me the most hope. Mark suggested videos of children and adults with autism, inspiring videos that showed me just what my daughter is capable of. Mark is nurturing and engaging to both the children and their parents.
Mark, Thank you for giving me hope.
These are just 6 of the wonderful people who have worked so many miracles. I haven't even mentioned the therapists and other support staff who have gone far more than the extra mile.
At The Reach School every child succeeds. When my daughter entered Reach a year ago her only form of communication was screaming and now she is leaving with the ability to tell me what she wants to eat, finally capable of laughing and playing with her family and an ability to tell me I need to get off the toilet because it's her turn!
I can't thank them enough for all they have done for me, my daughter and our family. My daughter's transition to Kindergarten this fall is bittersweet. Although I am thrilled at the progress she has made in the last year, we will miss our Reach School team tremendously. I know that they are proud of her too.
If you need the kind of help, support, compassion and dedication for your special needs child that I've described, I encourage you to contact The Reach School to find Your Rock, Your Bond, Your Brighter Day and Your Hope.
Thank you,
eDee Bruns
Elements used to create Featured image Artwork provided by
Created by Jill
.