This is a guest post by my Blogging Buddy who's daughter is being bullied in a Mason Elementary on Southwest Ave in St. Louis MO
PLEASE read this post and help us take action!
I need your help. Doing ANY or ALL of the things below will help a TON!
I have posted NUMEROUS times about the bullying situation with my daughter, Jenelle, but today it's all just gotten to be too much. She is in tears, begging not to have to go back to school.
Before you suggest it… We cannot homeschool right now – it's just not an option – and switching schools has proven to be difficult as they have a "lottery" system in effect to choose kids that get to go to the other schools the next year.
The superintendent has ignored our emails – send him another one anyway, at [email protected]
Better yet, call him!! (314) 345-2500 Dr. Kelvin Adams, Superintendent
Board of Education Office (314) 345-2304
Bombard their Facebook page with questions like "Why don't you stop the bullying going on at Mason Elementary?" or other questions that you come up with. They delete them as fast as we put them up but they can't keep up if there are dozens of us.
Information you will need for report:
Student School: Mason Elementary on Southwest Ave in St. Louis MO
Student Name: Jenelle Lankford
Student Grade: 5
What is going on: See past posts, severe bullying, students calling her a lesbian, gay, hitting her, just harassing her almost daily.

Past posts: When the bullying got really bad – and then when my daughter fought back she got written up for sexual harassment
REPORT TO:
John Robins 573-522-1488
School Violence Hotline: 573-522-9804 OR 1-866-748-7047
REPORT Bullying ONLINE using this FORM
Type in Mason Elementary in the school name form, and this will pop up. The correct school is the one on the bottom of the list, in St. Louis, MO.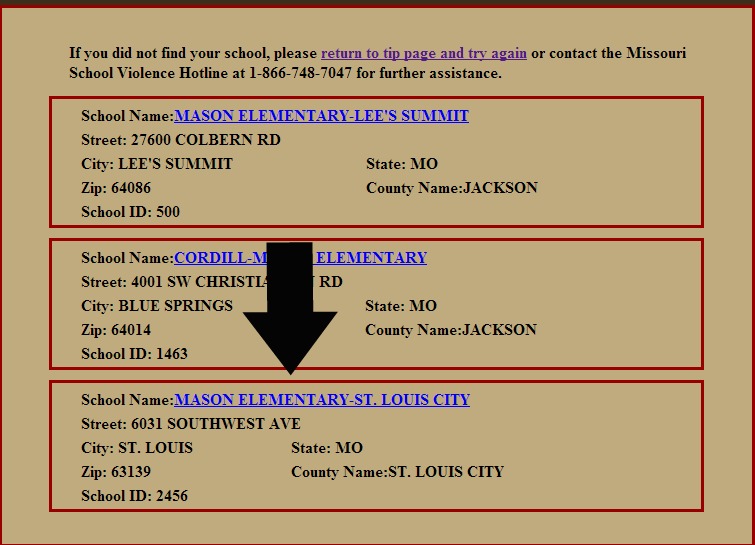 You can report anonymously or you can include your information. Put in Jenelle Lankford as the victim name, she is in grade 5. You can leave the rest blank, as none of the fields are required. I just want them to realize this is a BIG DEAL and that A LOT OF PEOPLE know about it and are going to stand up for her until the school is ready to.
Contact the NEWS
I have sent emails but my emails alone have done nothing. Contact the local news stations:
http://www.kmov.com/on-tv/contact
Elements used to create Featured image Artwork provided by
Created by Jill
.