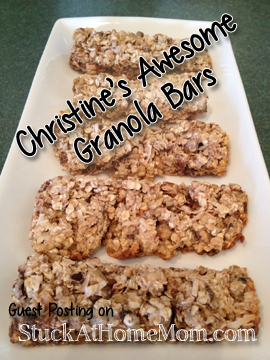 Good Evening Girls and Boys,
Today I'm bringing you another tasty treat recipe from Strong Tower, LLC!
Who knew Granola could be so Yummy!
Grab a pen, get your shopping list ready ….. Here we go:
Ingredients
3 cups quick-cooking oats
2 scoops of vanilla protein powder
1 cup flaked coconut
1 cup dark chocolate chips
1/2 cup chopped walnuts
1 (14 ounce) can sweetened condensed milk
2 tablespoons butter, melted
Preheat oven to 340 degrees F. Grease a 9×13 inch pan.
In a large bowl, mix together the oats and protein powder until thoroughly combined. Next add the coconut, dark chocolate chips, and walnuts and combine. Then add the sweetened condensed milk and butter and stir until the mixture is thoroughly moistened. Press flat into the prepared pan. (Tip – put the can of sweetened condensed milk in a pan of hot water for a few minutes before adding. It will help it to mix easier.)
Bake for 15 to 20 minutes in the preheated oven, depending on how crunchy you want them. Lightly browned just around the edges will give you moist, chewy bars. Let cool for 5 minutes, cut into squares then let cool completely before serving. I coat my pizza cutter with butter spray and use it to cut the bars. The great thing about this recipe is that it's easy to make different variations. I've used chopped peanuts and peanut butter chips instead of the walnuts and chocolate chips. I've also used white chocolate chips, cransins, and almonds. My husband's favorite is made with pecans and raisins. Makes 16 – 20 bars.
Elements used to create Featured image Artwork provided by
Created by Jill
.