Peanut Butter "Cheese Ball"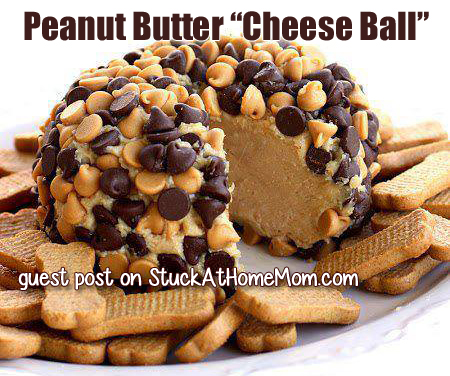 I am just loving these free posts I'm finding on FaceBook by people who don't copyright their images. It's an easy post, just grab the information off of FaceBook and post – it takes all of 10 seconds.
Rarely do people ever come email me and say "That's mine" and if they do, hey I just give them a link – People! COPYRIGHT YOUR IMAGES. Mark them up like I have here!
But until people start putting their name on their food porn, here is the latest recipe via FaceBook:
Peanut Butter "Cheese Ball"
Ingredients:
1 package (8 ounces) cream cheese, at room temperature
1 cup powdered sugar
3/4 cup creamy peanut butter (not all-natural)
3 tablespoons packed brown sugar
3/4 cup milk chocolate chips
3/4 cup peanut butter chips
Graham cracker sticks, teddy grahams, and/or apple slices for dipping
Instructions: http://www.the-girl-who-ate-everything.com/2011/08/peanut-butter-cheese-ball.html
Much thanks to Karen from In the Kitchen with KP.com for finding the link!
Elements used to create Featured image Artwork provided by
Created by Jill
.