Ageless Derma
This is the year! Year 41! Is the year I learn to apply makeup.
What's taken me so long? Well, no one ever taught me how and I've always been told I was beautiful – so why do it? Plus, I'm allergic to Everything under the sun, so finding something that would make me blow up or turn purple was to much work.
But now I'm 41. I need to learn – I don't just have bags under my eye's I have the 4 piece luggage set!
When I saw a review for Ageless Derma Natural Camoufleur Concealer – I was ALL OVER IT!
No one needs to conceal like I need to conceal. I only hope I can convince them to send me their entire line!
….. but I digress.
Ageless Derma Camoufleur Concealer is 100% mineral make-up that comes in beautiful shades to cover any skin's imperfections. I wanted something that would cover the dark circles under my eyes and that it did.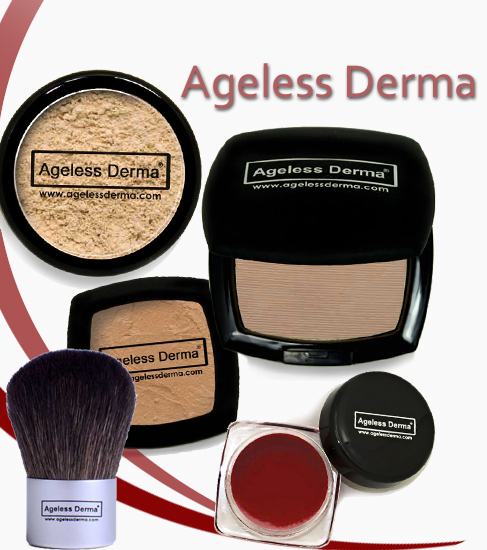 Ageless Derma is an anti-aging skin care and cosmetic line that uses ingredients that are natural and gentle. As an anti aging cream makeup, this concealer contains Vitamins A and E and green tea extracts to revitalize and heal the skin, protecting it from further damage and healing the damage already done.
The first thing I noticed about the concealer is that it's very light and doesn't feel caked on. It's also very creamy so it feels more like skin lotion than makeup. I used my finger to apply the concealer and that worked well, but I think a brush would be best. And I can't emphasize enough – A Little Goes A Long Way. You know the saying a dab will do yeah! Well, yes it will, a container should last awhile. Another thing I loved about Ageless Derma Concealer is how well it blended with my natural skin tones giving me a even finish. I even got a little brave and tried eye shadow!
Ageless Derma is a grown up concealer and is worth every penny.
Ingredients: Mineral Oil, Colloidal Oatmeal, Petrolatum, Ozokerite Wax, Beeswax, Cetyl Esters, Lanolin, Zinc Stearate, Mica & Superoxide Dismutase & Catalase & Apple Extract & Horseradish & Phospholipids & Retinyl Palmitate & Tocopheryl Acetate & Butylene Glyco
Elements used to create Featured image Artwork provided by
Created by Jill
.