Rechargeable Electric Toothbrush by ToiletTree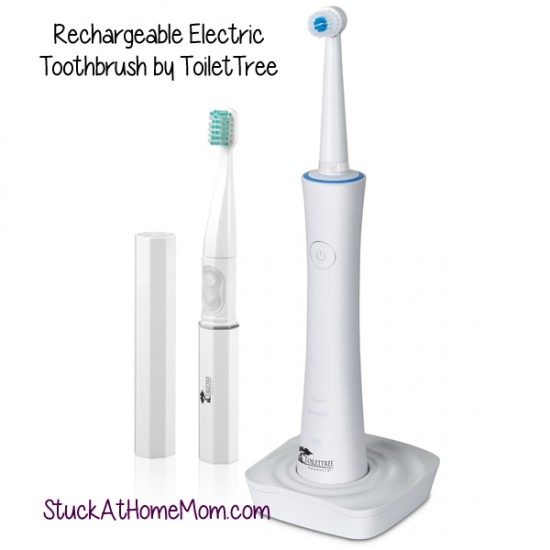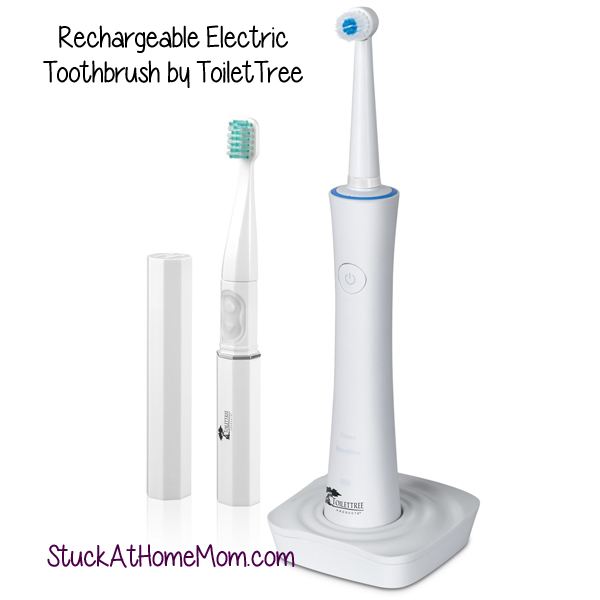 I have wanted a Sonic Toothbrush forever!
Ages ago my husband purchased one for himself and when I sent him back to get one for me he came back with something else – very disappointing.
For years I've used the cheap electric toothbrushes, but I've always questioned if they were doing any good, considering I had several cavities at my last dentist appointment I think I can conclude that it wasn't.
I liked the Rechargeable Electric Toothbrush from ToiletTree Products right away, after the first use it felt like a dentist office cleaning. I've used the toothbrush for about a week and I can feel my gums getting stronger and the slightest touch from a fork no longer causes them to bleed.
There are several things that I like about the toothbrush:
1. It's quite light weight, but able to withstand the force of impact with the floor each time the girls knocked it off the counter.
2. Easy to hold. No fumbling, it has a stable no slip hold.
3. Two settings. One for a regular cleaning and another for those with sensitive teeth. My teeth and gums are rather sensitive, but even on the regular setting brushing was quite comfortable.
4. I've only charged it once since I received it. That's big! We don't have a lot of counter space so leaving the toothbrush in a charger isn't an option. The Rechargeable Electric Toothbrush by ToiletTree charged once overnight and hasn't needed a charge since.
5. The 2 minute timer! The toothbrush came with brushing instructions, which I thought was a little odd until I realized that to toothbrush pauses for a moment to tell you to move to the next section of your mouth. This way you don't spend to much time in one area and not enough in another.
6. It's waterproof!
Another thing I love is that it came with a second brush head, so that gives me 6 months without needing to purchase another. It also came with a nifty travel toothbrush for when I'm away …. I stuck it in my laptop bag for when I'm at the office and want to brush quickly before a meeting.
When I compare my old electric toothbrush with my new rechargeable electric Toothbrush the ToiletTree toothbrush wins hands down. My old electric toothbrush hummed and moved a little, but I don't think it actually did anything. With the rechargeable electric toothbrush I can feel it cleaning and my mouth feels clean for hours!
 
I received one or more of the products mentioned above for free using Tomoson.com. Regardless, I only recommend products or services I use personally and believe will be good for my readers.
Elements used to create Featured image Artwork provided by
Created by Jill
.