When school started back in September, I was on top of the lunchbox game. I was making creative sandwiches and healthy snacks, worthy of Pinterest. My kids were the envy of their lunch tables with crinkle cut or spiral fresh veggies, fruit cut into flower shapes, and little tomato/ham/cheese shish kabobs on toothpicks. Now as we drag into winter, my creative energy is sapped and they are lucky to get a cheese stick, a baggie of baby carrots, and cup of fruit. Lucky for my kids (and for me!) the fruit cup we all love is Del Monte® Fruit & Veggie Fusions.
Having a child with autism, who changes food preferences even more than my other daughter does (and that is a lot!) makes it hard to find something healthy and delicious and then stick to it. Fortunately they both love the Peach Mango Fruit & Veggie Fusions. I feel great knowing that I am giving them 100% of their daily allowance of Vitamin C, and one combined serving of fruit and veggies in every cup. The best part? They don't even know that they are getting their vegetables. Why? Because the fruit is served in a lightly sweetened veggie and fruit juice.
If you are like me, you are extra cautious with fruit juices for your kids – many of them contain high fructose corn syrup, which we all want to avoid for health reasons. Del Monte® Fruit & Veggie Fusions contain NO high fructose corn syrup, and NO artificial colors or flavors. And I really like the added bonus of the vegetables in the lightly sweetened juice – the kids don't know they are there, but they are getting extra nutrients.
In addition to the Peach Mango flavor, Fruit & Veggie Fusions come in Cherry Fruit Trio and Apple Pear Watermelon. I love having them to put in the girls' lunches, but I also love having them in the snack drawer for after-school snacks. The girls always go for them when they have the choice, and I am happy knowing that they are getting a combined serving of fruits and vegetables each time.
If you are burnt out with the lunchbox game, it doesn't mean you need to give up on giving your child healthy, delicious snacks. You don't have to abandon fruits and veggies, you just have to be smart about it! Give your kids Del Monte® Fruit & Veggie Fusions. They will love the flavors and you will love how easy it is to provide your kids with healthy choices.
Del Monte® wants you to show them how super your kids are – with their SharetheSuper Sweepstakes. Go ahead and share a Super Moment on Instagram and Twitter with the hashtag #SharetheSuper + #Sweepstakes and you will be entered to win prizes for your whole family! For more information head on over to http://www.sharethesuper.com.
Want a fun way to get your kids interesting in a healthy snack? Try putting stickers on the tops.
I created Fun stickers using Avery's Square Labels #22806 and digital photo elements from Created by Jill. If you'd like to add these stickers to your fruit cups just download the image and print them out.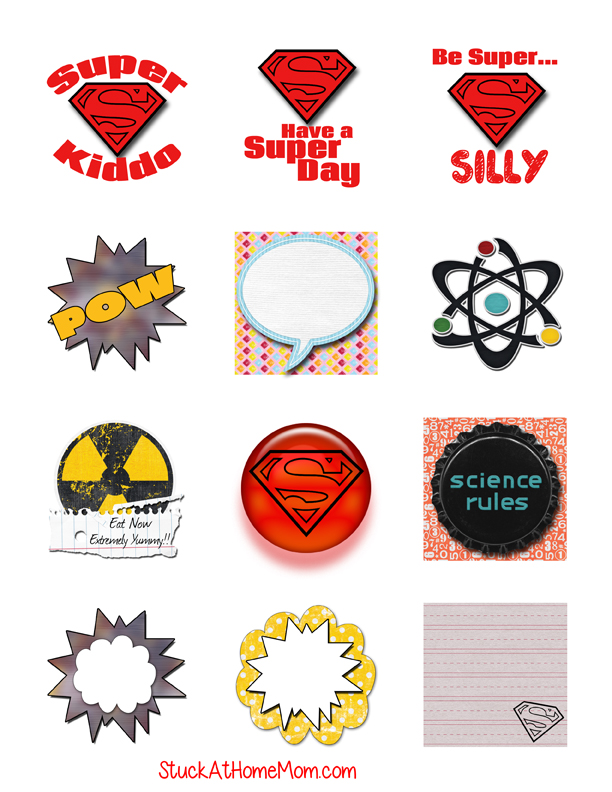 Elements used to create Featured image Artwork provided by
Created by Jill
.