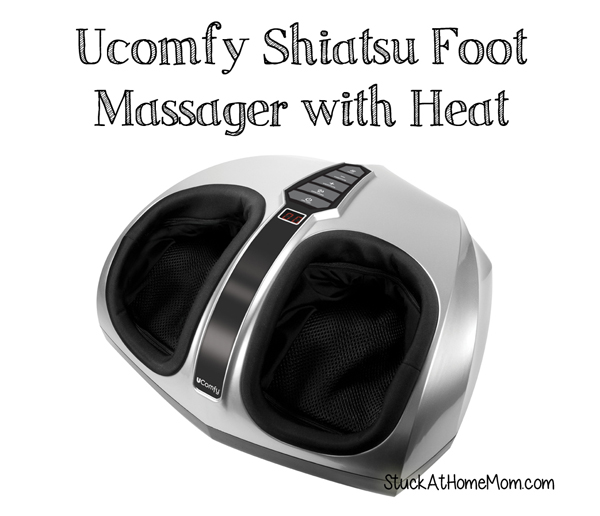 Ucomfy Shiatsu Foot Massager with Heat
Ucomfy Shiatsu Foot Massager is a deep kneading foot massage with a heat option. *And it is wonderful* So wonderful that I can't write this review and use it at the same time because I keep drifting off in a state of foot euphoria.
This is not your run of the mill vibrating massager. This is a moving massager that warms your feet just enough to relax tired achy muscles, but not to make your feet sweat. Using the principle of foot reflexology to relieve tired, tight, aching feet, leaving you feeling relaxed and renewed. AcuPressure massage uses manipulation of pressure points in your feet.
Where to begin
The Foot Massager has 5 built in settings and comes preset to level 3 when the unit is switched on. You may want to change that setting to 1 for the first use or you may end up with over relaxed feet. My feet felt so good I didn't want to stand up after the massage.
This unit works right out of the box. There is nothing to put together or assemble. You just plug in the power cord, skim the directions and switch it on. Do make sure you have your feet set properly in the machine. You'll know if your feet are in the wrong position by the odd squeezing feeling.

Take it with you!
The Ucomfy Shiatsu Foot Massager is quiet and also portable! You can take it almost anywhere with you. Long trips, to the office, from bedroom to living room and back to bedroom, just about anyplace you can find an outlet!
My Take!
When I received the massager I was most impressed with that fact I didn't need to put it together. It was easy, just plug it in and go.
The first time I used it I quickly realized my feet were in the machine incorrectly. Your feet need to go straight in and be upright or the massage will be at the wrong angle and won't feel right. Once I reviewed the direction, I realize my mistake – Read The Directions. I mean it's a wee little manual about 2 pages most.
And it's tough! The kids have sat on it, tripped over it, dropped stuff on it and used it as a Lego land mountain and the thing is no worse for wear. I don't think it was built to take a lick'n and keep on tick'n, but in this house that's a given and this massager has been put to the challenge and has been victorious.
This foot massager is very very nice. Over that last week we've have friends over to test it out, every one has been impressed and many have come back for coffee and another try.
I give the Ucomfy Shiatsu Foot Massager with Heat 5 Stars! It's comfortable, relaxing, and a conversation starter. What more can you ask for!
The Official Stats from Ucomfy
* Shiatsu therapy and heated air massage
* Improves respiration and regulates blood flow and blood pressure
* Kneads and vibrates
* Massages top and bottom of foot
* Sleek appearance, light, and portable
– Product Dimensions: 17.7 x 15 x 18.1 inches
– Shipping Weight: 12.3 pounds
Where to purchase
The Ucomfy Shiatsu Foot Massager with Heat can be purchased from Amazon and Bed Bath & Beyond.
Elements used to create Featured image Artwork provided by
Created by Jill
.