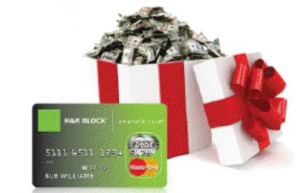 I try to start holiday shopping early, usually in August. Starting early doesn't help me spend less, but every year I hope it reduces the Holiday Stress!
The thought of holiday shopping makes me cringe, it's nearly impossible to find the perfect gift for everyone. And with Thanksgiving fast approaching I'm one giant nerve trying to come up with meaningful presents for all the people on my list.
$300 would go along way in reducing the stress and put more gifts under the tree or to splurge on a little something for yourself. The holidays are hectic and everyone can use a little "Me" time.
With H&R Block's Emerald Advance service you may be eligible for up to $1,000 without having to jump through lots of hoops. Starting November 19th you can apply to receive a cash advance in time for the holidays. Whether you use Emerald Advance to cover holiday gifts or holiday travel expenses, you can feel good about relying on a financial expert – so you can do more celebrating and less worrying!
So enter to win by using the raffle copter below. You have nothing to lose and you could gain $300!
Details:
· Starting November 19th, apply to get up to $1000 cash in time for the holidays
· All you need to apply is a valid photo ID and your most recent pay stub (no W2 form required!)
· You don't already need to be an H&R Block client to apply
USE THIS DISCLOSURE: H&R Block has provided the $300 gift card for the winner of this giveaway. The prize was provided and may be shipped to the winner by H&R Block, but H&R Block is not a sponsor, administrator, or involved in any other way with this giveaway. All opinions expressed in the post are 100% my own and honest opinion and not those of H&R Block. Entrants must be 18 or older and located in the US only. Winner to be chosen at random. I did not receive compensation for sharing this information or running this promotion.
Elements used to create Featured image Artwork provided by
Created by Jill
.