Big Boss Juicer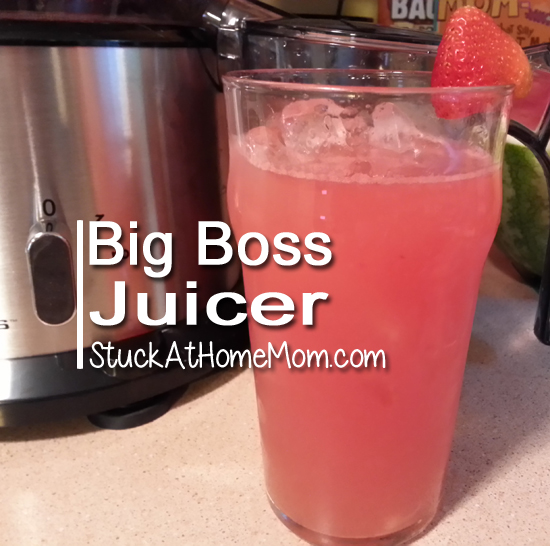 I've had so much fun with the Big Boss Juicer I nearly forget to write the post! We've had parties, work friends over, Sunday morning brunch – you name it we've been doing it.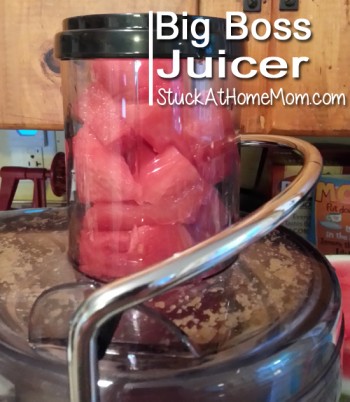 Are you trying to make a healthy step in your life and stop drinking sugary drinks? Have you caught yourself buying more juice from the store? Then the Big Boss Power Juicer should be on your list forget about those those store bought juices. When you drink the store bought juices you are not getting the nutrients only the preservatives and fructose. Only your liver can break down fructose and it can't be stored, so that can be as dangerous as the preservatives. You are also getting all the natural sugar as well as the added sugar that manufacturers add to make the juice sweeter. What you need is to get the juice and the fruits 'meet'! And that's what makes the Big Boss Juice perfect. Not only do you get the juice, but you get the fruit. I'm not talking about thick pulpy stuff, I mean slightly thicker juice. I pure it over crushed ice and it's an instant healthy slushy.
The Big Boss Power Juicer can handle a whole apple, core and all in the feeder along with large pieces of fruit, 2 speed operation that allows you to juice soft and hard fruits and vegetables, a lid with locking tabs fore secure operation, stainless steel blade and filter that grinds and filters fruits & veggies through super fine mesh, durable stainless steel housing, allows you to just 1L/1QT of juice at a time, comes with a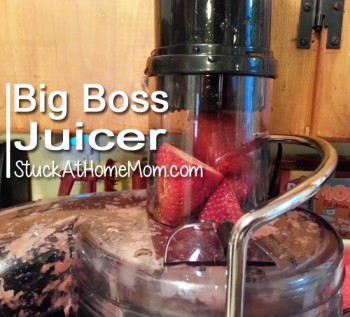 2.5L/2.6 QT Mega size pulp collector and is very powerful with 120V / 60 Hz / 800W and 16,000 RPM.
When using the Big Boss Power Juicer you are the one in charge of what you put in your body. You get to go and pick out your own fruit and veggies and make your own juice as often as you would like and you do not have to worry about the extra sugar or the added preservatives.  It is so much better using the juicer at home!
While trying out The Big Boss Power Juicer I decided to use fresh watermelon, fresh strawberries, canned pineapple (I hate cutting pineapple so canned worked perfectly) and half a lemon. That juice was even better than soda! Using the juicer at home I can change things up and even sneak some veggies in that the kids don't know about. When you run out of ideas you can find some on The Big Boss Pinterest board or you can share some of your own ideas on The Big Boss Facebook Page.
I promised my FaceBook Friends and Fans the Watermelon Juice recipe so here goes.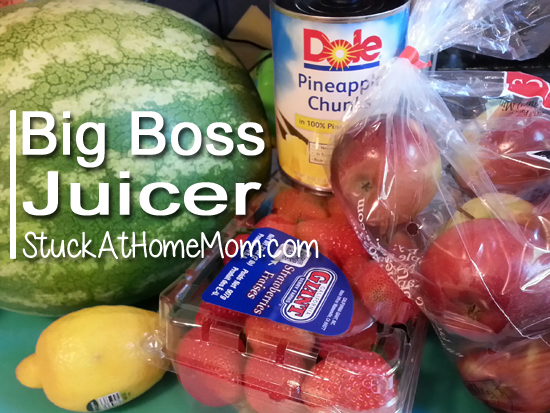 1 Can of chucked pineapple (Or one pineapple, skinned and chopped)
½ a Watermelon
½ a Lemon
6 to 12 Strawberries
Make sure you skin and cope everything so it will fit into the Big Boss Juicer. Strawberries don't need to be chopped, but the leafs should be cut off.
Feed it all into the juicer slowly.
This will fill the pitcher almost twice so make sure you have someone who can drink the rest.
The juice was so good that we skipped our typical lunch, it was filling and healthy!
Big Boss has so many wonderful products and you can check them all out on their website.
Elements used to create Featured image Artwork provided by
Created by Jill
.