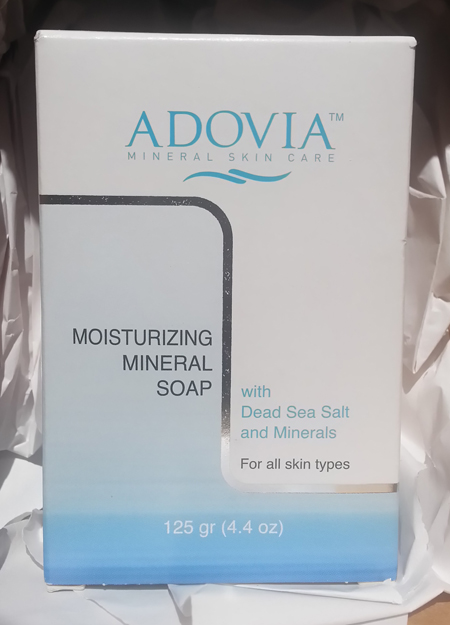 Dead Sea Salt Soap
I couldn't wait to receive the Dead Sea Salt soap by Adovia. We have been using Dead Sea Mud soap for a few years now, but my tub is always filled with dirt so I was excited to find a Dead Sea soap that would leave my tube as clean as it left me.
When I opened the box the day it arrived the first thing I noticed was the scent. I really loved the way it smelled and couldn't wait to try it!
I wasn't quite sure what to expect. I thought it would be something gritty and exfoliating, but it's actually a very soft soap. The scent lingers on your skin but isn't at all overpowering. It's a very pleasant and clean scent. The soap is smooth and lathers beautifully. There's nothing gritty or rough about it. It's almost like a lotion.
After a few days of using it I noticed that it cleared up some patches of rough skin that I often get at the change of seasons. My face, elbows, and knees were noticeably softer and looked smooth. So often soaps dry out my face, but this one hasn't done that. There's no film or residue left behind and my face feels soft and not at all dry or rough.
I'm very impressed with this soap and will continue to use it. Adovia made a great product and I look forward to my daily showers so I can use this soap! The Adovia Dead Sea Salt soap has done all it promised to do, all while leaving a pleasant and clean scent on my skin. This infused soap is one I'm glad I had a chance to use. My husband even noticed that my skin was softer after just a few days of use and I hadn't even told him I was using a new soap!
I find that the price, when compared with similar products, is really reasonable! A lot of these infused soaps cost almost twice what Adovia is selling their product for. This soap absolutely knocks the other soaps right out of the park!
Find Adovia Salt Soap on Amazon
Follow Adovia on FaceBook
Elements used to create Featured image Artwork provided by
Created by Jill
.