From my years of selling on eBay to my current years of Blogging something I've always needed was a photo background, but I've never had a good place to store it so I would tape white paper to the wall or try to take photos outside – not easy when winter is 10 months out of the year. 
I don't know why I didn't think of this until now! Brain cramp – I've had this thing in the basement for ever.
What you'll need:
1. Portable Garment Rack ($17 – if you don't have one hanging around.)
2. Roll of craft paper from Staples ($5)
3. Fabric (optional) Curtains will do nicely. 
Depending on the height of the items you may not need to use the second set of poles. I set the garment rack on the table so I only used one set of poles.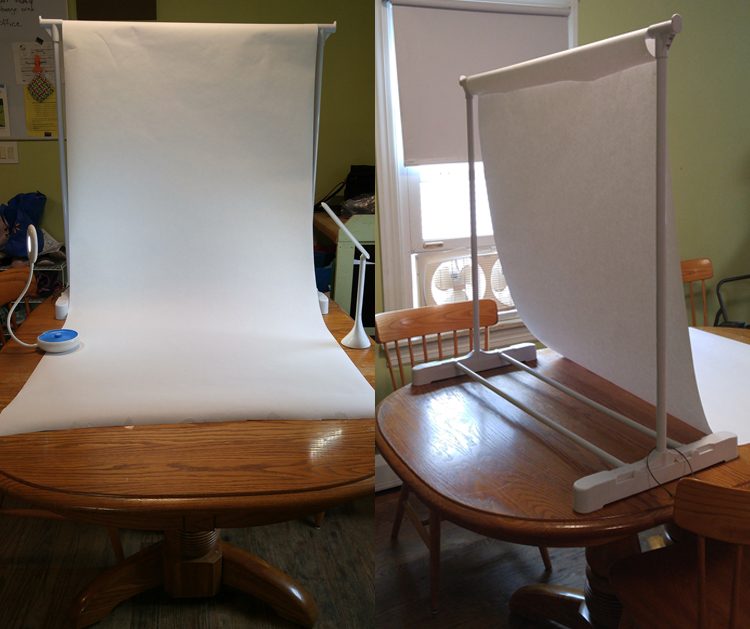 Setup the garment rack as usual, leaving out a set of poles if necessary. 
Now you can do one of 2 things, hang the roll of paper off the top rung or if your kids use the paper for crafts you can just tape a long piece of the paper to the top bar and allow it to drape down and several feet in front of the rack. 
Lighting: Desk lamps are great, but keep the light soft. I have been using rechargeable desk lamps I've received for review. They both have 3 brightness settings and I use an over headlight to get a pretty good effect. 
If you are recording video of a person you will need those extra poles. You can use the white paper or use curtains to add some color. 
Elements used to create Featured image Artwork provided by
Created by Jill
.