Five Ideas to Add Appeal to Your Living Room's Decor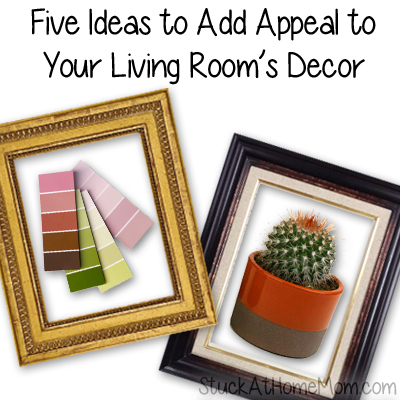 In many homes, the living room is the place where families gather to relax, talk, watch television, eat a meal and more. Making this room more appealing can be simple and inexpensive. Look at five ideas to refresh the look of your living room.
Establish a Color Theme
A color theme in a living room can lend harmony to the décor. For instance, if you love pastel green, get an area rug featuring pastel green along with other shades of green. Find a chair or ottoman in pastel green to add to your furniture collection. Search for wallpaper with an attractive design that includes pastel green. All of these touches of pastel green work together to create a visually appealing room. Plus, you don't have to limit yourself to one color in your theme. You can incorporate two or three colors if you want. Look at a resource such as Joybird for furniture items in pastel colors.
Create a Unique Mixture of Furniture Styles
Another way to make your living room more appealing to family and friends is to choose furniture items in unique styles. Instead of opting for a traditional armchair for your sitting area, go with a rocking chair with a soft, comfortable cushion. Or, instead of a sofa with a skirt that hides its legs, go with a more modern sofa featuring stylish legs made in dark wood. Sometimes changing a table here and a chair there can give a traditional living room a new lease on life. One resource for these types of creations is Joybird Furniture.

Change the Artwork on Your Walls
Artwork on the walls of a living room adds to the tone of the space. Look for some watercolor prints by classical artists for your walls. Carefully chosen prints can enhance the room's color theme. Or, mix up your styles a bit. Hang one watercolor print next to a drawing done in pencil or charcoal. Select frames that highlight features within the artwork. All of these elements can make a living room more inviting.
Invest in Some Houseplants
Boston ferns, English ivy, Spider plants and Bamboo palms are just a few examples of houseplants that can make your living room more welcoming. Houseplants add color and texture to the room as well as help clean the air inside your home. In addition, many houseplants are fairly low-maintenance so you don't have to be a plant expert to keep them healthy.
Enhance the Natural Light
If you have windows in your living room, pair them with white or light-colored curtains. These will reflect the sunlight coming through the window creating an airy space. White lace curtains can filter the light setting a pleasant atmosphere. Tie the curtains back during the day to let even more light inside. Avoid putting items on the window sill that may block any amount of sunlight shining through.
Finally, you don't have to completely overhaul your living room to make it a more inviting place to be. Switching a few items of furniture, adding a rug, putting up different pictures or changing some of the colors in the décor can give the room new life.
Elements used to create Featured image Artwork provided by
Created by Jill
.