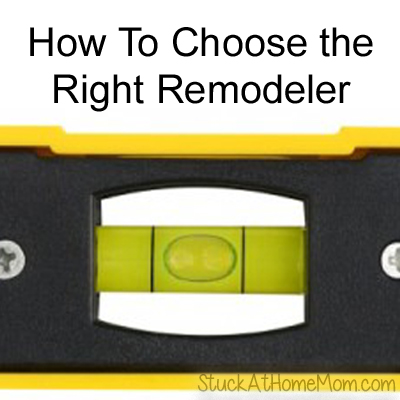 How To Choose the Right Remodeler


There are times in the life of nearly every homeowner when a little remodeling is in order. Perhaps you want to update some cabinetry, change outdated colors,update a porch ceiling or just go for an entirely new look. One of the primary areas of the home where this is often the case is the bathroom. Because of the complex nature of such a job, however, it is often best to have some professionals to come and do the job for you. If you are in the market for that right now, consider the following tips for choosing the right bathroom remodeling contractors.
Determine the Scope of the Work to be Done
There are many different types of contractors out there today. Some can perform the role of architect if you need them to, and then they will follow through on the actual construction. If you already have the designs drawn up, either in your head or using computer software, you might just opt for a general contractor. Whatever you decide, make sure you choose a contractor that specializes in bathrooms and they are they are capable of performing the various components of the remodel that you have in mind.
References Are A Must
There are many great contractors out there just waiting for you to hire them. For you to find them, however, you will want to read through reviews and references to determine the best one for your project and in your area. The Internet certainly makes this easier today, as many contractors will be reviewed online. You can also for references from friends and family if they have had any remodeling work. Do not automatically discount a contractor if they have one or two bad reviews either. Nobody is perfect. In fact, you might want to raise a few alarm bells if you only read glowing reviews about any one contractor. You want to gain an honest appraisal of them before making your choice.
Confirm That the Contractor is Licensed
This is a critical step in the process towards hiring a contractor. You need to make sure that the person or fit that you choose is licensed. This means that they have the requisite skills, education, and experience to do the job up to code and to your satisfaction. At the same time, mistakes can be made from time to time. This is why it is imperative that you confirm the contractor you choose is both licensed and bonded. This means that they have the financial capacity and insurance to cover any financial damages should they make a mistake during the project, or they run off before finishing the job.
These are just a few tips to hiring a general bathroom remodeling contractor. The process should be fun and exciting. In the end, you want to end up with a bathroom that you and your family will enjoy for years.
Elements used to create Featured image Artwork provided by
Created by Jill
.