For most of us, having a beautiful kitchen is a great pride and joy, it really perfects the whole house, adds a lot of value to our home, and makes cooking for our families a more experience. It's no wonder why the experts say kitchens are what sell a home. Whether it's the good cabinetry, an eye-catching backsplash tile or the combination of color and accents, a good kitchen is something worth investing in. Very often, you already have the blueprint for a good kitchen in terms of size and space, but the floors, tiles and furnishings leave a lot to be desired. The challenge is, if your kitchen hasn't had any changes made to it in over a decade, chances are it looks very old-fashioned and dated, and that can make a huge impact on how the room feels.
Because decor and house design elements change from time to time, your kitchen will need to have some tweaks and changes made to it. Some of these things are small, like the removal of certain elements, but other changes are full on overhaul renovation projects and reconfigurations. The goal is ultimately to modernize your kitchen, so that you can bring more value to your home. What are some of the things that make kitchens look older, and what changes can you make to solve these issues? We've compiled a handy guide to help bring your kitchen into this decade! Hopefully this will inspire some kitchen remodels and renovations.
Open it Up
Back in the day, kitchens were walled off as separate rooms, but now the trend is open plan, so no division between the dining room and other living spaces. It isn't just an aesthetic choice, it's also to make it easier for families to connect and bond, even during the cooking process. One of the most impactful things you can do is knock down those dividing walls. You can even opt for a half wall, separated by a kitchen peninsula. Whatever you do, opt for a style that makes it easy for you to move through the space and flows well with the rest of the house.
Change the Layout
Changing the layout for a kitchen can sound like a huge undertaking, there's so much you have to think about, from where to place the stove, creating the perfect work triangle setup for the refrigerator, stove and sink. You also have to consider what the layout means for things like countertops especially if you're adding more surfaces to the kitchen. Luckily, you can find great professionals to help with all these decisions. New Leaf Cabinets, top Tacoma Countertop Contractors can help you with getting countertops in Tacoma. One of their top customers, Bernadette says, "When I was thinking of renovating my kitchen, there were so many details to think about, but the team at New Leaf made the process of choosing and installing my countertops so easy. I would recommend them to anyone!"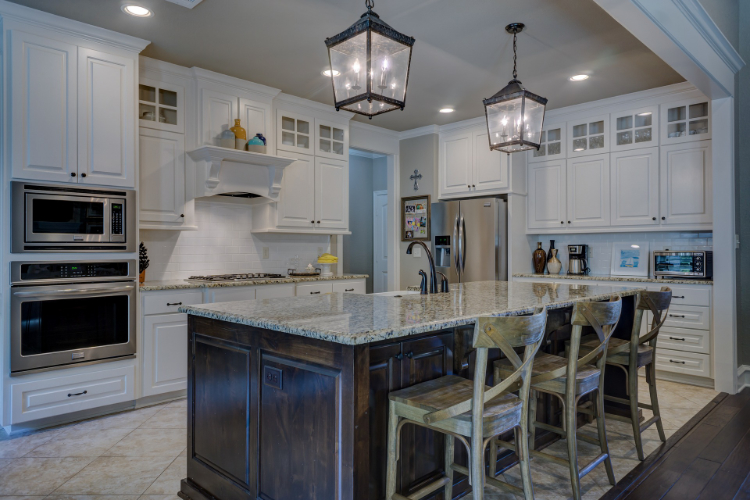 Brighten It Up
If there's one thing that makes a kitchen look dated, it's a lack of brightness, whether it's through a lack of natural light from the sun, dark tiles or dark cabinetry. You can easily change this by painting the walls and cabinets a lighter color, installing patterned floor tiles, or going for lighter colored floor tiles. You can bring more light into the room by adding more windows to the space or even boosting your lighting fixtures. It seems like a small change but it makes a major impact.
Clean Lines and Counterspace
Visual clutter is one of the most dating things you can have in your kitchen. Modern kitchens tend to put the main focus on the cabinetry and countertops, and they take center stage. So if you have too many things on the counter tops, you'll make your kitchen look like something out of the 90s. If you have small appliances all over the place, you take away from the beauty of your kitchen, so investing in great storage for kettles, coffee makers, toasters will make a huge impact.
Changing a kitchen is one of the most pivotal changes you can make to your home, and the impact is huge if your kitchen still has a 1980s and 1990s inspired design. With just a few changes and simplifications, you can brighten your kitchen, make it look and feel bigger and create a space that fits in with the rest of the house. The end result is something you will be proud of and something that fits into you and your family's style.
Elements used to create Featured image Artwork provided by
Created by Jill
.