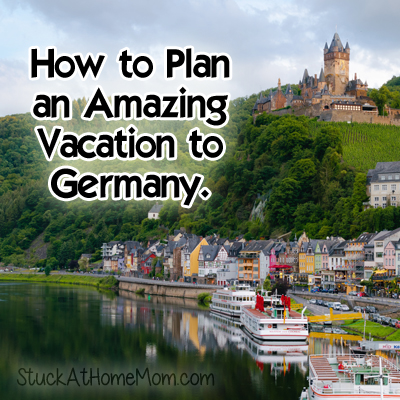 Going on a trip to Germany can be a life-changing experience. Whether you go on your own or bring your family along, Germany can be an amazing location with lots of opportunities to experience history as well as have fun sightseeing. Planning a trip can seem like a daunting task, but there are lots of resources that you can use to help streamline the process so you can dedicate more time to enjoying the experience.
How to Travel
Navigating through Germany can be a lot less complicated then you may think. There can be two major options for travelers to consider, trains and cars. If you are legally allowed to drive in Germany, then you should find that you can get a great deal renting a car from CarRentals.com. If a car isn't going to work for you, then trains can be the next best option.
Trains can be a convenient way to travel throughout the country, but ticket prices can start to add up after a while. You can look into bus travel as an alternative option. Depending on how you schedule your travels, it may save you some money.
When to Go
While it can be appealing to plan your trip so that you'll be in Germany during Oktoberfest, there are actually lots of times that can work well for travelers. The spring can be an especially lovely time to visit, as things start to warm up from the cold winter and the summer crowds aren't quite as heavy yet. Almost any time in fall can be delightful in Germany as well, as the changing leaves make for a beautiful backdrop. Winter and summer can both have advantages and disadvantages including crowding and difficult weather conditions but depending on your schedule almost any season can work out nicely.
Where to Go
From beautiful castles to bustling cities, Germany is packed with amazing sightseeing opportunities. Some of the obvious locations that you should hit as a tourist are Munich, Berlin, and Neuschwanstein Castle, but try not to miss out on lesser-known treasures as well. While it can be difficult to pack everything into a single trip, you'll be glad you put the planning in to see as much as possible.
What to Eat
Germany can have some amazing things to offer to food lovers. You've probably already heard of delicious favorites such as Bratwurst and Schnitzel, but trying these foods for yourself while in Germany can be an experience that takes your trip to the next level. Different regions in the country can specialize in different meals, so doing research is a must. There are some convenient tools you can use when planning such as this interactive German food map that can help streamline the process and ensure that you don't miss any of the best stops.
Final Thoughts
Germany can be the perfect place to plan your next trip. With all the elements of a great vacation including amazing sightseeing opportunities and spectacular food, there is something to excite just about anyone. Taking advantage of online resources to plan your trip can help save you money and reduce stress.
Elements used to create Featured image Artwork provided by
Created by Jill
.