Last Minute Money FREE Blogger Event!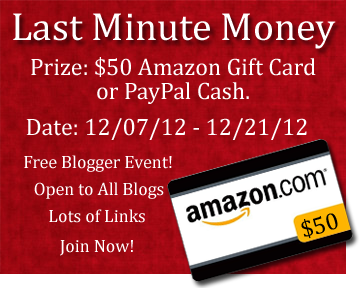 Prize: $50 Amazon Gift Card or PayPal Cash.
Date: Friday Dec 7th 6pm – Friday Dec 21st at 11:59
One lucky winner will receive a $50 Amazon Card/Credit or PayPal Cash
To participate in this event you must:
1: Publish the Event Announcement found HERE (or you may pay the $5.00 waiver fee)
2: Complete the form below
3: Submit Form
By submitting the form you agree to:
a. Publish the Event Announcement Now. (unless you have paid the waiver fee)
b. Publish the Giveaway HTML within 24 hours of the start date and time. (unless you have paid the waiver fee)
c. Promote 3 times a week.
d. Participate in the spirit of the giveaway. (i.e. don't be a dink!)
Make payments for options using PayPal and email address: [email protected]
Sorry, we cannot refund options once they have been purchased. We cannot hold options.
For Giveaway Updates, join our group: http://www.facebook.com/groups/thegiveawaygals/
REMEMBER We are purchasing AdSense to help promote – Page Hosts Should Expect Traffic!
*******************
Elements used to create Featured image Artwork provided by
Created by Jill
.