Fake Job sites, Fake Survey sites, Fake Rebate sites – I've talked about them a few times, Here, Here, Here and Here! Oh and HERE! Just to list a few.
I'm having today's tantrum over "Get Paid to Try"
Get Paid to Try
Description:
Earn cash for trying things you like. Complete Your Registration and be eligible for a $20 Bonus!
[BTW PLEASE, BY ALL MEANS, click the link and sign up, I get $0.75 every time you do!]
This morning I get my daily email from Logical Media* [which IS a legitimate businesses]
And in the email there is a link to Get Paid to Try and they tell me I get $0.75 for each person I get to sign up!
Well, hey, getting paid to try stuff out is pretty cool right? Maybe Apple will send me an iPad to 'Try Out' that would be just great!
So I scoot on over to Get Paid to Try and sign right up!
Now lets just see who can follow this. Let me know if you get lost.
I signup for Get Paid to Try.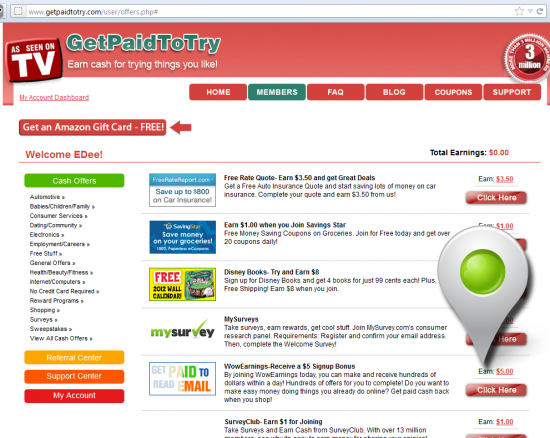 And low and behold I have to pay to try most of the stuff.
So I pick something that looks like I won't have to hand over my credit card.
WOW Earnings! Get Paid for Reading Emails. I can read emails.
Ok, I signup for WOW Earnings! and guess what?
They will pay me a whole 25 cents MORE to get people to signup for Get Paid to Try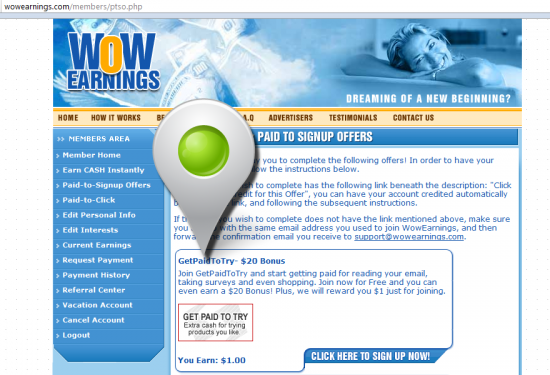 *Logical Media is a Great Company, it really truly is an honest company.
The problem is companies like Get Paid to Try are legitimate companies – sickening as it is.
Logical Media can't refuse there business because companies like Get Paid to Try have found loopholes in the governments legislation.
However, Get Paid to Try hasn't credited my account for signing up for WOW Earnings yet – I have a note into 'Support' I'll let you know how it turns out.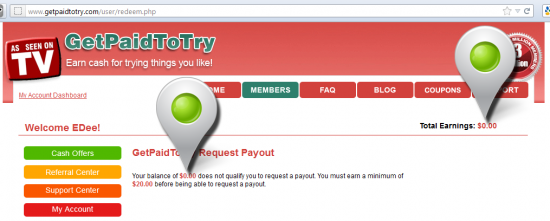 Elements used to create Featured image Artwork provided by
Created by Jill
.