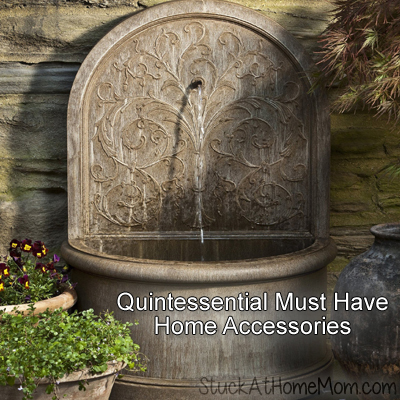 Quintessential Must Have Home Accessories
Home décor encompasses various aspects and elements of architecture, edifice, and layout, interior, exterior. You can choose a single theme for the entire house from the colors to the tiles to the bathrooms to the curtains to the garden to the rooftop to every minute detail being woven according to just one theme or on the other hand, you can choose themes, crux and essence for every nook and corner to be vitally different and have a meaning of their own like a single room may have color schemes of green and gardens while the living room depicts the theme of sunshine and morning to give it a lively and vibrant feel to it. 
"There are some essentials that every house must have. It makes the house standout in terms of ease, extraordinary choice of accessories, leaving a long lasting impression of your sensational and terrific aesthetic sense. Whereas there are certain elements without which a house remains incomplete, vacant and sidelined.

From your conspicuous choice of furniture to the vintage teapots that you choose to display in your dining hall, home accessories are the elements that give your house some personality and character. These distinguished accessories make your house different from that of your neighbour and make it home where you chose to come back and unwind.
UNCLUTTERED SPACE
Have you ever heard of the phenomenon less is more! This is what we are talking about over here. Some people just like to keep the accessories to a minimum, either they have space issues or originally they want the entire look to appear spacious. Moreover, the biggest advantage would be that there are no trinkets to dust and not much to move here and there when you are on a cleaning spree. Secondly, a place with the minimalist décor is a place that lightens you up from the day to day stress.
ARTSY FOCAL POINT
"Art stays with you for a lifetime, and each piece marks a place and a memory"
While you may not be rich enough to stock up a Picasso, any other form of an alluring and audacious wall hanging gives your place a personal touch and a character to your space turning into a focal point of attraction.
Houseplants
One can never get enough of or get fed up of greenery around. Houseplants are the most vital and indispensable choice if you wish to have some greenery even inside the house. Studies have shown that in-house plants help in defuse and deactivate several chemicals emanated by different paints or gas in the kitchen or flooring materials used.
OUTDOOR WALL FOUNTAINS
You must be familiar with the famous proverb " the first impression is the last impression". Well, that's quite true. While building up a house of your dreams would you not aspire to come up with something unique and out of the box? Then you must have outdoor water fountains for the walls. The soothing effect of running water and the voguish ambience it endows to the entire look is just praiseworthy and laudable.
Candles, mirrors and wall arts can only take you so far, though. A well thought of and an intricately crafted house is yet again: a house. In order to turn it into a home: we focus on personalized accessories.
Elements used to create Featured image Artwork provided by
Created by Jill
.