If the thought of Photoshop makes your blood run cold, Smart eCards are for you. This program is written for people who are afraid of their computer. You can't go wrong, unless you're a programming nut like me, then …… well, I was over thinking the instructions, but that's another story.
The site is so simple that if this was your first day online EVER and someone sat you in front of SmarteCards.com, you'd be able to build a beautiful digital holiday card.
It's simple, first you pick a preprogrammed background. Once you have that, you'll see some sections on the bottom and an option to import your images.
You can upload 1 image at a time or batch upload different photos from different folders on your hard drive – that part was the best!
I have photos everywhere on my laptop. Some are in My Pictures, some are on my external hard drive – I have images saved in folders all over my laptop, so being able to click on 10 different images, in 10 different folders and clicking Upload just once is a God send.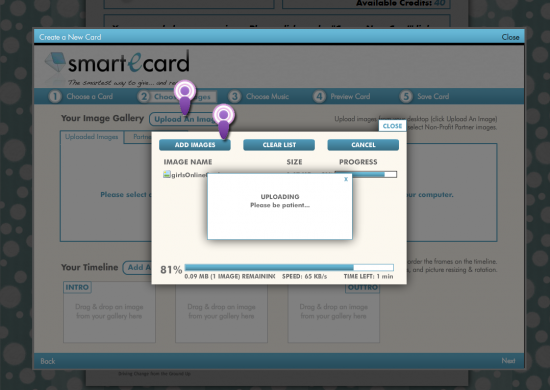 After you upload the beautiful images of your children (…..or pets – hey I'm not here to judge…..) it's just drag and drop.
Drag the picture you want to appear in the intro, down to the first section, to edit any section, just double click on that section and you can move the image around and add some text. Once I reconnected my brain to my cortex I realized that I could add more fields! I don't know how many you can add, but I'm pretty sure the Duggers would find the Add Field feature extremely useful.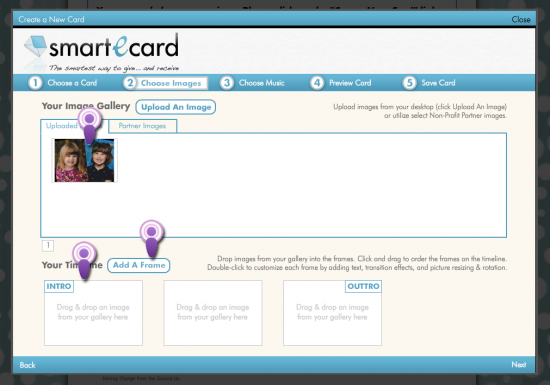 The text on the Intro and Outtro are set and can't be changed, but more text can be added. Also, just to make life easier, you can import your address book from gmail, yahoo and other programs.
And the MUSIC! I can't forget to tell you about the Music! Oh they have a great selection, I previewed my card and just let the music play. I wrote this entire post with their beautiful music playing in the background.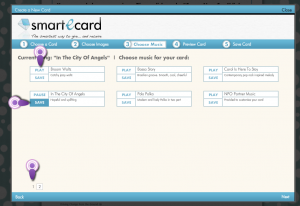 Realistically, you can open an account, find the perfect background, upload almost every family picture, import your address book and have an ecard ready in under an hour.
Again, SmarteCards.com is made for people who aren't technically savvy, but want to look like they are.
Now if you are Technically Savvy, you can do what I did – I uploaded my actual Holiday card, which I created with Photoshop AND still use the Great Features that Smart eCards provides – Its so much the best of both worlds!
By the time I was done, I had create 3 different cards to send to 40 different people. Once I got the hang of it, I was making cards in less then 5 minutes.
And of course I have a little giveaway for you!!
This contest is as easy as Smart eCards
25 eCard Credits!
To enter, just leave a comment.
Yup! That's it!
RULES: Giveaway open to US residence only. Comments must be posted in English. Must be 18yrs old or older to enter. We are NOT responsible for items lost in the mail. Only 1 person per household may enter. Rules must be followed. All entries of winner pulled will be validated for winning. Giveaway ends Dec 16, 2011 at 11:59 Est. Winner will be selected using Random.org and all entries will be verified. The winner will be notified by email and given 72 hours to respond. In the event of no response a new winner will be chosen. The Stuck At Home Mom holds no warranty or guarantee. Blogger has the right to refuse duplicate winners from other blogs. Blogger has the right to end giveaway without notice for any reason.
Now that I have your attention, there is one more thing you should know about Smart eCards – for every credit you purchase on Smart eCards they make a donation to a charity of your choice.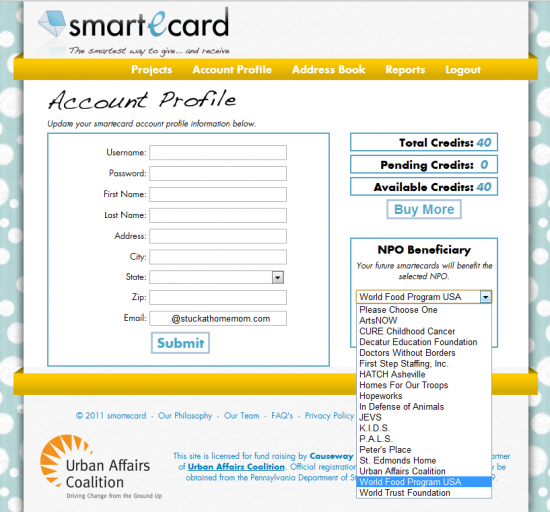 Elements used to create Featured image Artwork provided by
Created by Jill
.