Conscious Box
For those who don't know what Conscious Box is, it is a monthly subscription box. You sign up for the monthly subscription and a box of samples is sent to you every month. This is an easy and great way to learn about and get to try new products! The samples come in a neat box and sent right to your door by USPS. Each month brings about different samples and coupons.
This month I received my first Conscious Box. I was shocked at how much they could fit in that box! I would love to see how they pack them because I have no idea how to get it all back in there! There were a ton of samples which ranged in type from organic snacks to natural sunscreen! My favorite was the OrganicaSourus cheddar cheese crackers shaped like dinosaurs. They were so good and my daughter thought they were a lot of fun!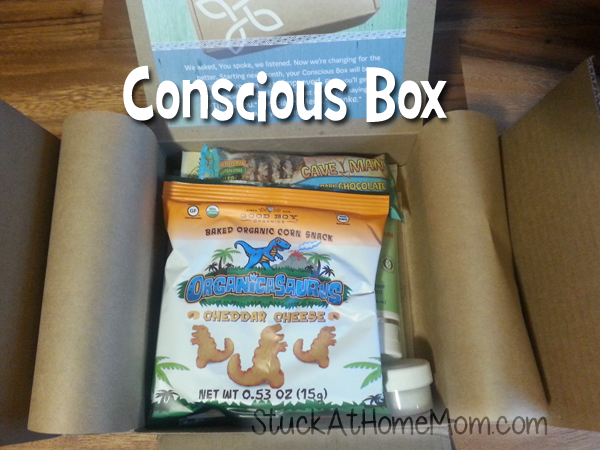 The Caveman Bar was excellent also. The Caveman bar is gluten-free, Paleo friendly, and has no nuts. I really need to find out where to buy these so I can get more of them! I had never heard of them before this box, so I'm really glad I got a chance to try it! That right there is the beauty of the Conscious Box. I never would have known to go looking for these items and probably wouldn't have bought them myself in the store, but everyone loves to try samples!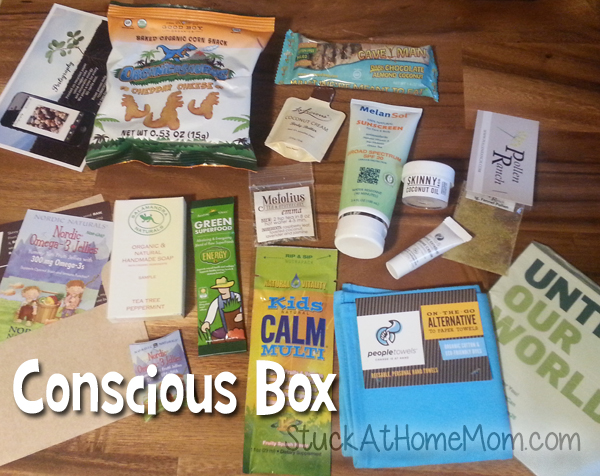 Also in the box was Pollen Ranch rub for pork loin. I haven't tried that one yet but it sounds interesting! There are also tea samples, coconut oil samples, natural sunscreen samples, a natural multi-vitamin for kids, some earth-friendly paper towels, natural hand soap, a superfood drink mix, and omega 3 gummies for kids.
This was seriously the box that didn't stop giving. I haven't had a chance to try everything yet, but I will soon. The Conscious Box definitely lived up to it's hype and introduced me to all kinds of new products!
Elements used to create Featured image Artwork provided by
Created by Jill
.