Skora
The Skora running shoe looks a bit odd, to be entirely honest. The shape of the shoe is different and the off center lacings where one of the features that drew me to the sneaker. I like different and I had never seen anything like it! I did wonder if the shoe would feel off center, but since I'm always up for a challenge, I didn't let that deter me from trying them out at all.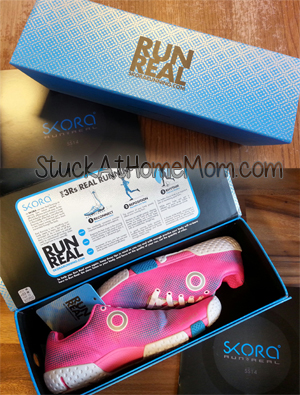 Once I put them on, I immediately saw what all the fuss was about! These shoes feel incredible! I'm one of those people who genuinely hate shoes, so I was concerned that the off center lacing would feel weird but truthfully I don't even notice I have them on. The Skora shoes are flexible and
the fabric lets your feet breathe. The heel has a nice grip and cushion to it, which is incredibly comfortable! It seriously feels like walking on a pillows!
I wear these shoes at the gym. They are strictly gym shoes because my gym has a no street shoes policy. They are so wonderful to work out in. They move with me and feel very light. I often forget I even have shoes on! I've found other brands tend to be heavy and somewhat bulky, but the Skora shoes are perfectly light and make it easy to move around. I really can't imagine ever wearing a different brand sneaker. These were provided by Skora for this review, but I'll be purchasing another pair for every day use. Skora sneakers will be my one and only brand. Retail cost is very reasonable about the same as other sneakers.
The Skora shoes are absolutely worth the money. They will make it so much easier and more comfortable to work out! The pink and purple coloring of my shoes just add to the awesomeness of wearing these shoes. I think I'll try orange for my next pair. Skora running shoes are definitely a luxury item for my (and your!) feet. You will not be disappointed when you lace these shoes up!
Elements used to create Featured image Artwork provided by
Created by Jill
.