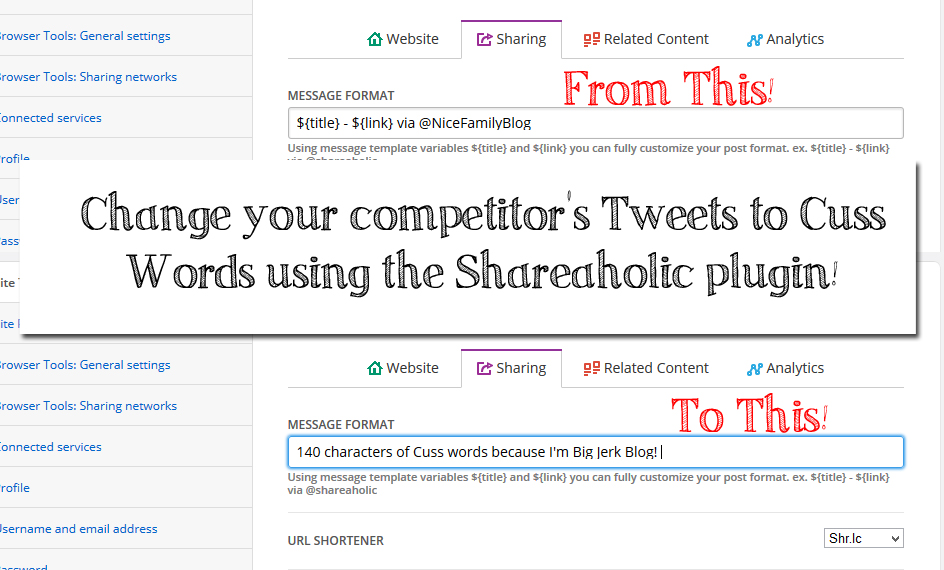 Shareaholic
I want to make sure everyone understands why there is a danger to leaving the Shareaholic plugin installed.
This has happened:
A fellow blogger who only knows me from FaceBook contacted me and asked "eDee, I've locked myself out of my blog. I know you're a programmer, could you do me a solid and log in to my blog (login and password removed) and disable the WordFence Plugin?"
This blogger setup their own WordPress website. The blogger is not a developer or a programmer and I had give them advice once or twice, but again via on FaceBook.
So I logged in and without my knowledge or my permission or the permission of the other blogger Shareaholic linked my account to that bloggers Shareaholic account.
I disabled the WordFence plugin, the blogger was able to login to the blog and Changed the Password. This means I no longer have access to that blog – BUT I DO!
I and every one of my clients now have access to her Shareaholic account.
That actually happened, not to just one person, but I've done that same thing for several bloggers.
Let's take this scenario a step further, the rest of this didn't happen, but easily could have.
I have many clients (that part is true) Lets say one of my clients is "Big Jerk Blog" I installed Shareaholic in to his blog and it is linked to my account. Big Jerk Blog realizes how many Shareahoic accounts are linked together. So Big Jerk Blog goes into Nice Family Blog's Shareaholic's account via the Back Door that Shareaholic built in and changes the "Message Format" option to 140 characters of Cuss words – Because IT IS THAT EASY!
This means EVERY TIME Anyone Tweets a post by Nice Family Blogs they will tweet 140 characters of Cuss words
If you are using Shareaholic you could be linked to MANY different Shareaholic accounts and you may not even know it. You don't even need to unlock the free features. If anyone who has a Shareaholic account has logged into your site their account is probably linked with yours.
This is not where it ends. Shareaholic could be causing you to violate FTC regulations without your knowledge or consent.
To make it worse, Shareaholic is defending their actions telling me in an email that "… we understand that the FTC is not targeting endorsers, but rather the advertisers if/when there is a compliance infringement reported." as if that gives them permission to break the law.
For more detailed information visit my original post: Remove the Shareaholic Plugin Immediately! Threat! #shareaholic
REMOVE THE PLUGIN 100% Don't just disable it, DELETED IT!
Elements used to create Featured image Artwork provided by
Created by Jill
.