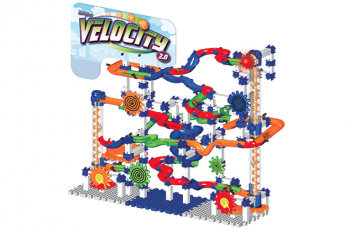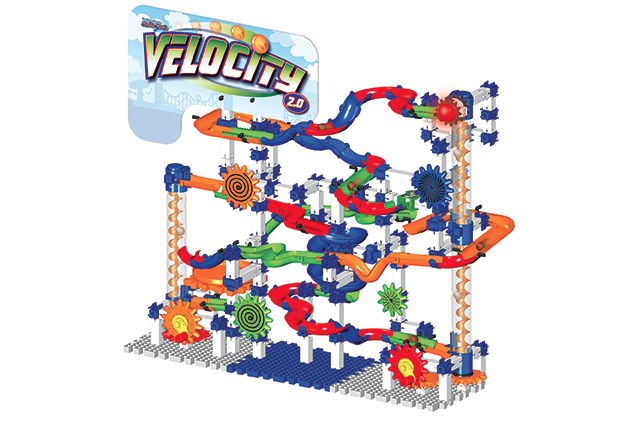 Techno Gears Marble Mania Velocity 2.0 has got to be one of the best marble runs I have come across in a very long time. It is listed for ages 8 and up. If your 8 year old like building and seeing how things work then they will love Techno Gears Marble Mania Velocity 2.0, however, if your child is not mechanically inclined then you will probably end up doing all the work. It was the first thing they wanted to play with this morning before school and when they came home from school they wanted to play with it more than eat a snack!
When putting together the Techno Gears Marble Mania Velocity 2.0 you do not want to force the pieces together. They go together easily and you will figure that out once you put a few together. The most important part with this is to make sure you READ THE DIRECTIONS. Read them before you start and read them again as you are putting it together. It will make assembly go a lot smoother. We realized quickly that if you tape pennies on some of the curvy pieces the weigh them down you can get the marbles to do tricks, like spin off the side and into the different areas. Just make sure not to use something much heavier than a penny because the pieces are still made of plastic so you still have to treat it with care.
I wanted to make sure it could survive my kids so I tested it out to see how much force it could take. It stays together pretty well when moving it around or even dropping it evenly on the floor, but what kid drops things evenly on the floor so when dropped on its side it does break apart, but I don't think it would kill a small pet- that's always a plus!
Techno Gears Marble Mania Velocity 2.0  comes with more than 300 pieces including several marbles. Once it was all put together we started with one marble at a time and then moved to using them all at once. Once you get them going and with the pieces weighted they start flying around, but it's loads of fun. I'm not sure how homework is going to get done tonight.
Elements used to create Featured image Artwork provided by
Created by Jill
.