I was at Lowes this morning and the conversation went like this:
Me: I need 2 cinderblocks.
Salesmen: What kind?
Me: Dumb look "The generic kind with 2 holes?"
Salesmen: Smiles politely "What are you going to use them for"
Me: Oh! Breaking.
Salesmen: Dumb look
Me: motioned a palm strike
Salesman: Dumb look did not leave his face as he walked backwards in the gated area and picked up a cinderblock.
Me: That's perfect. I'll take 2!
It didn't occur to me until I was loading the blocks into the truck that he probably thought I was going to break the cinderblocks with my palm strike – since he did not know I have 12″X12″ boards at home to put across the blocks to be broken.
In reality got the cinderblocks to practice my ax kick. In the split second I had to think I figured imitating an ax kick would be more confusing than mimicking a palm strike and in doing so I led the man to believe I was going to break cinderblocks with hands.
The poor man looked very confused as I walked away.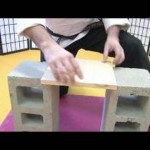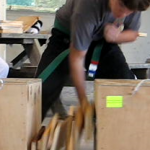 Elements used to create Featured image Artwork provided by
Created by Jill
.