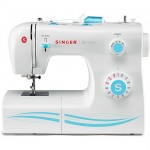 I've been feeling like I haven't been doing anything for our world.
Yes, I'm finishing our house, sanding dry wall, painting, plus running the kids here there and everywhere, but I don't feel like I'm doing enough.
A while back on NBC Nightly News I saw a Making a Difference report on "Little Dresses for Africa".
The short story is, a woman went to Africa, saw a need and even though she couldn't sew decided to make a difference.
Last week I realized Halloween is just around the corner and I need a sewing machine for costumes and my girls have been begging for doll clothing – I added Little Dresses to my list of reasons to purchase a sewing machine and like magic my oldest daughter found one ON SALE!
A Singer 2263 – it's not the top of the line by any means, but my daddy bought my sisters and I a Singer when I was 14 years old and it's still running today – I have hope that this little Singer Sewing Machine is going to get me through all 100 Dresses and beyond!
My goal is to finish 100 dresses by the end of the year.
There's about 120 days left of this year – let's see how many I can finish.
Elements used to create Featured image Artwork provided by
Created by Jill
.