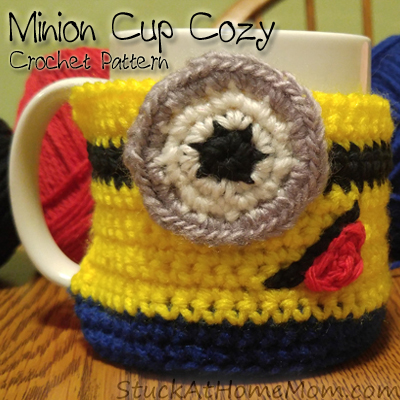 We love all things Minion!
Since I had a lot of extra yarn left over from making my nephews Minion slippers for Christmas – I've started making a LOT of other Minion stuff!
I have 2 different patterns for Minion Coffee Cup Cozies, with a third in the works. Look for the next Minion Coffee Cup Cozy Crochet Pattern coming soon! I call it a Minion Cup Cozy because it could be used on a small water bottle, but it works best on a coffee cup.
To purchase this pattern please visit My Shop
Hook: G6/4.00
Yarn: Red Heart – Blue, Yellow, Black, White, Gray
Accessories: Button
Other: Needle
ch = chain
sc = single crochet
w/ = with
slst = slip stitch
ss = same space
** = repeat what is between the ** until the end
NOTES: turn only when indicated
Example: *2 sc ss* means: 2 single crochets in each space around
To purchase this pattern please visit My Shop
Lots of pictures: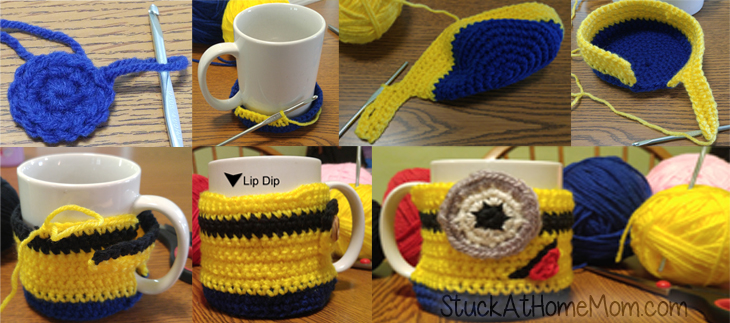 Please support my blog by purchasing the printable pattern. My blog is heavily read and to support the cost of increased hosting needed to continue I will be selling the printable version of the patterns.
If I have done this correctly, you should receive an immediate download as soon as you purchase.
Thank you so much for your support.
~eDee
Elements used to create Featured image Artwork provided by
Created by Jill
.