For this example we will use the group: http://www.facebook.com/oneman.onewoman

But you may use whatever discriminative group you like.
First scroll down to the bottom of the left hand column – not to the bottom of the page, just to the bottom of the column.
You will see 3 options, click Report Page
Next a dialog box will pop up.
For this example the page discriminates towards gays, so we click 'Contains hate speech or attacks an individual'
You will then see a submenu, click the down arrow.
We are going to choose 'Targets based on gender or orientation'
Last click submit.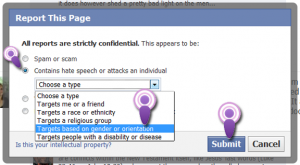 Another dialog box with quickly pop up and disappear to quickly to read, but it thanks you for reporting the group.
[ad#linkunit]
Elements used to create Featured image Artwork provided by
Created by Jill
.