Click Images at the Bottom to Print!
If you haven't guessed it by now I accomplish MUCH more when Challenged!
[the 52 Week Money Saving Challenge For example!]
There is something I've always wanted to do – Keep my house reasonably clean!
Remember this from FaceBook: I get more cleaning done in the ten minutes before someone comes over than I do in a week.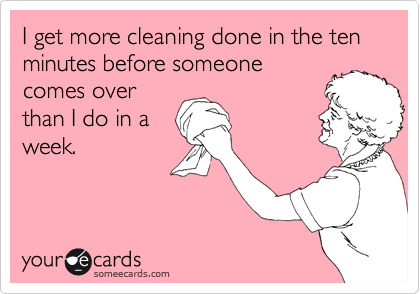 Well, I pride myself on fast home cleaning and I get more house work done in the ten minutes before the kids get home from school than I do all day. If I can straighten half the house in 10 minutes what could I do if I had a daily list!
My friend Karen tells me that this list is far to much for the busy working mom – but that's what makes it a Challenge! Plus, I'm a working mom! I work from home, but I can't clean during business hours or I'd never get any work done.
But the challenge is going to become easier as things are cleaned and the cleaning becomes routine.
Think of it this way, if you've ignored the pantry for 6 months than cleaning it out this week is going to be a Challenge, but next week the pantry is going to be Practically Clean. Less to do!
I'm going to start Monday. If nothing else, I'll get the Daily Chores done and that will be a start!
Who's with me? Download the 4 Day Cleaning Challenge Chart here: 4 Day Cleaning Challenge
OR you can copy and paste the REALLY large image to your hard drive: 4 Day Cleaning Challenge Green | 4 Day Cleaning Challenge Rainbow
The file is zipped and it is at a high resolution, but it will print nicely on a 8 ½"x11" landscape page.
PLEASE Download it. Take a look. Tell me what to change, what must go and what I forget!


Elements used to create Featured image Artwork provided by
Created by Jill
.