Inexpensive Ways to Update Your Kitchen

Once again, the National Cost vs. Value Averages report for 2019 revealed that remodeling a kitchen brings the highest return of investment (ROI). Of course, not everyone has the money for a total remodel which can cost upwards of $100,000.
The better news is that whether you want to make your kitchen shine before putting it on the market among Greenville houses for sale, or make it more appealing for any other reason, there are plenty of ways to update without spending an arm and a leg.
Paint
The color of your kitchen can make a big difference in the way it feels, and repainting is an ideal way to create a fresh updated look. Warmer colors, like yellow, can spark creativity and provide a cheerful ambiance – pale yellow can make a smaller kitchen seem bigger. Red is believed to stimulate the appetite, but may best be used for a pop of color such as an accent wall or on the cabinets. Green can be a good shade too, making the room more bright and airy, by using a more striking hue like emerald on an island, accent wall or cabinets, it can add energy without being overpowering.
Change Up the Lighting
The right lighting in the kitchen is essential for cooking. If you don't have adequate, well-distributed light for all your culinary needs, it's probably time to switch up or add new lighting. Accent lights can provide visual interest, and for countertop activities, you might want to consider adding lighting under the cabinets. A statement floor lamp is yet another way to add more lighting while creating a more welcoming space. Fluorescent lights use less energy and last longer to improve efficiency and are available in a wide variety of shades from warm to cool.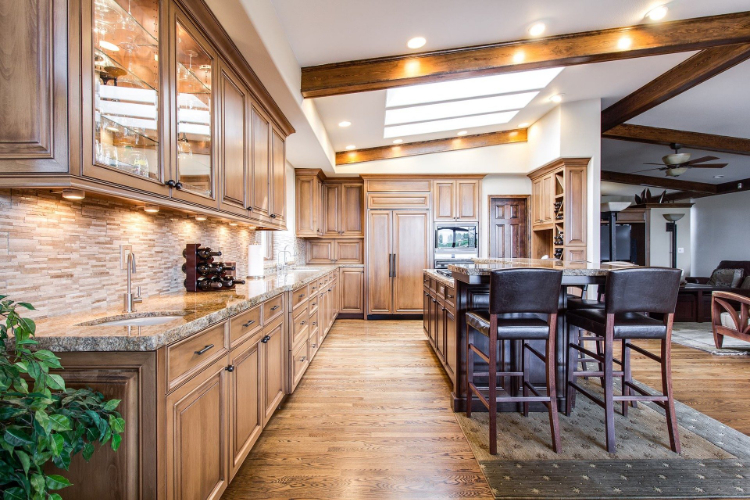 Add a Rug
A rug is a great inexpensive option for covering an unattractive floor and adding a pop of color. When it comes to the kitchen, a rug made of cotton is a good option as it will be easy to clean – you might even be able to pop it into the washing machine. While cotton rugs don't usually last for long periods of time, as they're cheap, they can be a great way to change the look of the room every season. Another option is a rug made with synthetic manmade materials as they tend to be affordable, durable, colorfast and naturally resistant to stains.
Upgrade Cabinets
Adding new hardware or repainting outdated cabinets is a great way to give your kitchen a whole new look. Switch out the hardware and then paint them to cover up any nicks and scratches. Neutral shades work well, but if most of the room is neutral, consider a more bold color like red. Just be sure it's done right by sanding cabinets down completely first before painting and add a sealer so that the paint doesn't chip.
Hang Shelves
Shelves not only mean more storage, but additional space for adding fun decor. If you have open space above your sink, shelves here can be ideal for houseplants as well as dish soap and other items that won't be harmed by humidity. Floating shelves are great for stacking dishes, glasses and some leaned artwork.
Elements used to create Featured image Artwork provided by
Created by Jill
.