$50 AMEX Gift Card from Frito-Lay #FritoLaySummer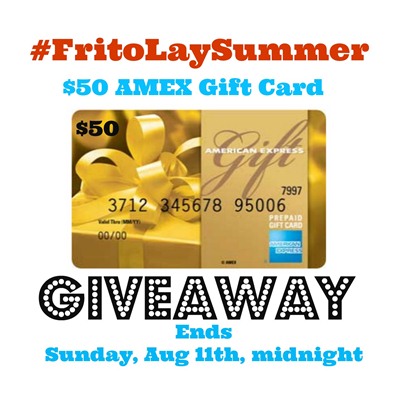 It's Giveaway Season! Yes, Yes, I know I've been giving away stuff all week, but this time it's NOT from my basement. Not that anyone has complained about the stuff they've been getting from my basement, actually I've been receiving plenty of Thank you notes. 
This giveaway is different. It's official! And it's Frito-Lay! 
No one wants to spend time making food in the kitchen (or anywhere else) when they can be out mingling with guests.  In The Kitchen With KP is sharing two delicious recipes to allow you to spend less time in the kitchen during your next party.  Summer is over in an instant, and the semi-relaxed routines will soon be a distant memory, so don't wait to plan your next fun party!  
The FAB folks at Frito-Lay have given In The Kitchen With KP a $50 AMEX gift card to giveaway to help one lucky winner get their party on before Summer ends!  I wanted to share that with all of you too!  All you have to do is enter via the Rafflecopter form below, and you could be $50 richer!
Disclosure: I received no monetary compensation for sharing this giveaway, but I sure thought it would be fun for one of my readers to win! 
 
Elements used to create Featured image Artwork provided by
Created by Jill
.