Never Miss a FaceBook Status Update! #facebook #update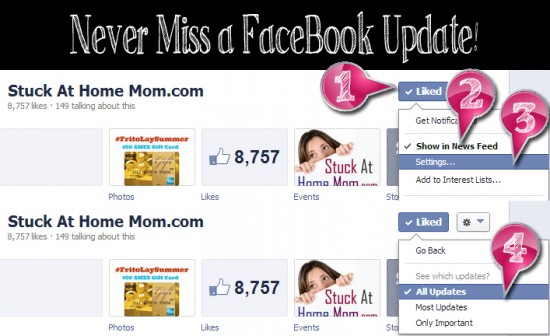 It doesn't matter if you're waiting for the announcement of a giveaway to begin or an update about on a cousin who is about to deliver – there are few things more frustrating than missing a FaceBook update and being out of the loop! 
There is a reason that you're missing Updates – It's because FaceBook PRE-SETS all your friends and beloved pages to "Most Updates" and not "All Updates". 
Most Updates is find for an old high school buddy, but what about the BLOG that Gives Away Free Stuff! Or your Sister who you love dearly? Those are the updates you want to see in your news feed. 
There is a quick and easy way to see all the updates from your favorite Pages and Friends. 
[Image above]
1. Click Like or Hover over the Liked
2. Make sure 'Show in News Feed' is Checked
3. Click Settings…
4. Click All Updates
Now for your Friends and Family
[Image Below]
1. In the News Feed, Hover over the persons name, but don't click.
2. Hover over Friends
3. Make sure 'Show in News Feed' is Checked
4. Click Settings…
5. Click All Updates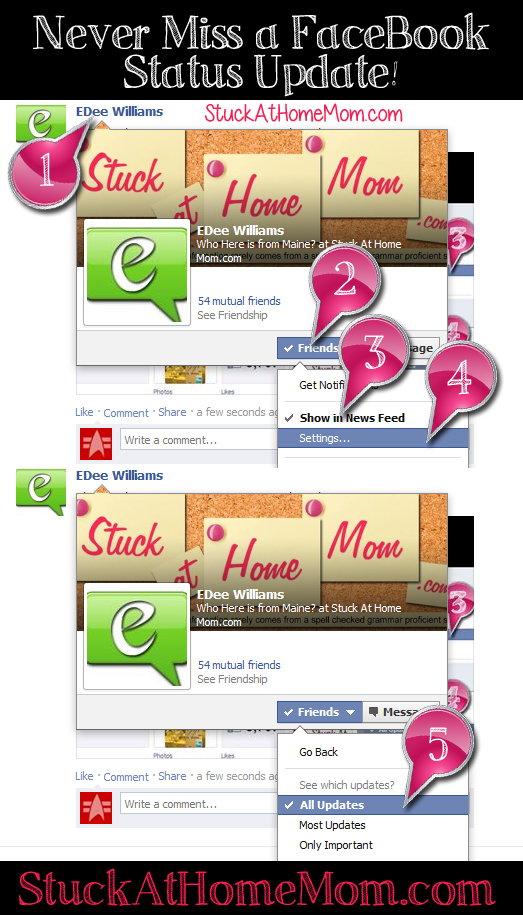 Done!
 
Elements used to create Featured image Artwork provided by
Created by Jill
.