Dear Ryobi, Until there is a Tub Scrubbing Attachment, my husband will Not purchase another piece of your equipment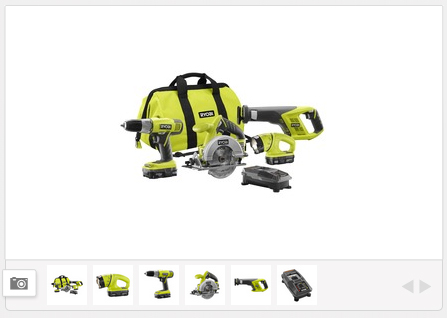 Dear Ryobi,
Why is it that you expect me to find money in our weekly budget for your Super Combo Kit when it doesn't include 1 item I can use to clean grout? Mmmmmm?
You tell me why I should allow my husband to even dream about getting a new Ryobi if can't clean the toilet after its installed?
The entire Kit can run off 1 lithium-ion battery, but it doesn't have an attachment to clean my floor?
I want something that is going to attach to that nifty drill of yours that will scrub the tub, floor, and toilet. It must get into those hard to reach spaces and get out mold, mildew, and any other form of gunk.
AND I do NOT want anything pink or cute or anything designed especially for me. I WANT IT to work with my husbands existing equipment.
Don't even think of designing something delicate – I'm not wasting money on something that isn't heavy duty.
I can apply joint compound and sand sheet rock, hammer nails, drill holes, repair bunk beds, and I've even installed my own cable – I do NOT want something delicate, I Want something that WORKS!
You provide a few cleaning attachments and I'll let my husband visit Low's.
Elements used to create Featured image Artwork provided by
Created by Jill
.